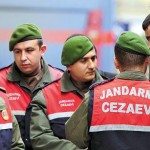 ISTANBUL — Ogün Samast, the confessed hitman in the assassination of Armenian-Turkish journalist Hrant Dink, who was fatally shot outside the Agos weekly office in 2007, has claimed he committed the act under the influence of media labeling of Dink as a "traitor."
Samast's remarks came in a letter he submitted on Monday to an Istanbul juvenile court where he is standing trial. "I am not guilty. The ones who are guilty are the newspaper headlines that portrayed Hrant Dink as a traitor. I got rid of the trash in my eye. Now let the ones who prepared those headlines think. Where are the ones who brought me to this point? I did not know about Agos. My veins were filled with ignorance then. I learned about Dink from newspaper headlines. And I sacrificed myself. … I am afraid of Yasin Hayal," the letter read.
Samast's case was separated from the main trial because he was under 18 years of age on Jan. 19, 2007, the day of the murder. Samast attended the second hearing of his trial in juvenile court in Istanbul on Monday. He blamed the media for the assassination. Samast shot Dink in the back outside the Istanbul offices of the Turkish-Armenian weekly Agos, of which Dink was the chief editor.
Dink was the target of a media lynching campaign regarding a story he published in Agos. The story claimed Sabiha Gökçen, the first Turkish woman pilot and the foster daughter of Turkey's founder Mustafa Kemal Atatürk, was actually of Armenian origin. Dink was a Turkish citizen of Armenian origin who had been working to reestablish ties between Turks and Armenians, which have been troubled since the alleged killing or deporting of hundreds of thousands of Armenians during the last years of the Ottoman Empire.