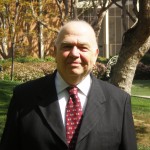 UCLA–On Monday, April 18, the UCLA Alumni Association and Alumni Scholars Club will present to Dr. Richard Hovannisian from the UCLA Department of History the Second Annual My Last Lecture Award. The Award honors a professor whom students have voted as most inspiring through a campus-wide nomination process. During the ceremony, the honoree reflects on what he might say if this were his last lecture to his students. The Award is a revival of the My Last Lecture series held at UCLA in 1955, featuring speeches from the university's greatest and most inspiring minds, such as Coach John Wooden, Professor of Philosophy Abraham Kaplan, and Professor of Chemistry Kenneth Trueblood.
Great minds have struggles, triumphs, and breakthroughs in their respective studies, and also in their own lives. Sharing those experiences and imparting the knowledge they have gathered throughout their lives does more than give comfort and advice to students. It further enriches the intellectual discourse and adds depth in the relationship between teacher and student.
Dr. Hovannisian is professor of Armenian and Near Eastern History and Holder of the Armenian Educational Foundation (AEF) Chair in Modern Armenian History at UCLA. A member of the UCLA faculty since 1962, he has organized both the undergraduate and graduate programs in Armenian history at the university and has guided a number of students to graduate degrees in Armenian history. Professor Hovannisian is a Guggenheim Fellow and has received many honors for his scholarship, civic activities, and advancement of Armenian studies.
After receiving the award, Dr. Hovannisian will reflect on a half-century of teaching at UCLA, discussing issues of identity, acculturation, and attainment. He will share what he has learned from his students, and how he has strived for the highest standards of teaching and scholarship.
For more information, visit www.alumni.ucla.edu/mylastlecture.