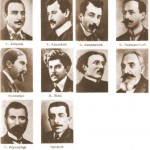 By Sandy Smith
Huliq.com
Turkey's main association of journalists will add the names of 10 ethnic Armenians to its honor roll of journalists slain in Turkey in a ceremony on April 24.
The date chosen for the ceremony by the Contemporary Journalists Association is of more than passing significance, as it is the day Armenian communities worldwide commemorate the massacre of millions of Armenians by Ottoman authorities over a three-year period beginning in 1915.
The 10 Armenians being added to the CJA honor roll of journalists slain in Turkey all were killed during the massacre, which many nations classify as genocide, a term to which many Turks still object. A report on the move in today's Hürriyet Daily News and Economic Review, the English-language edition of Turkey's leading daily, referred to the event as "the alleged Armenian genocide in Ottoman lands," for instance.
Nonetheless, the move is significant in that it signals a further step among Turkish elites to come to grips with a crime against humanity in which their ancestors are implicated, as well as an acknowledgement that the Armenians were and are a part of Turkish society.
Up until now, the list of journalists killed in Turkey contained only one Armenian name among the 76 on the list: Hrant Dink, a Turkish journalist of Armenian descent who was assassinated in Istanbul in 2007.
CJA head Ahmet Abakay told Hürriyet that the move was long overdue. "I wish we had the information before and has taken this radical step before," he said. "We, the Turkish people, unfortunately do not know anything but what the official history has told us. The truth was hidden from us."
The addition of the names to the list was delayed further due to the lack of paperwork needed to certify the names. Those documents arrived earlier this year, allowing the CJA to proceed with the April 24 ceremony.
Among the names being added to the list are an Armenian member of the Ottoman parliament and several noted pioneers of western Armenian literature. The CJA says it intends to add more such names to its list and raise public awareness of its existence.
The Armenian genocide remains a sensitive subject in Turkey, whose modern government continues to officially say that the deaths of up to 1.5 million Armenians in the waning years of the Ottoman Empire were the result of civil strife surrounding a rebellion by an Armenian independence movement. In recent years, however, a growing segment of Turkish civil society has called for a more thorough and honest assessment of the Ottoman role in the deaths. The CJA announcement marks another step towards such a reassessment. The action comes on the heels of a Turkish government announcement that it would take part in an official commemoration of the Armenian genocide at an unspecified date in the near future.