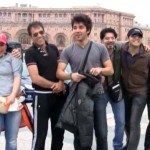 YEREVAN — Like every March over the past few years thousands of Iranians of different ages and social background are choosing to observe their Nowruz holiday in Armenia. The holiday usually begins on March 20 and continues for ten days.
Groups of Iranians could be seen walking around Yerevan streets — many of them wearing Western-style clothing — strolling with families or in the company of friends taking pictures and visiting its numerous cafes and restaurants.
According to head of the Armenian Economy Ministry's Department of Tourism Mekhak Apresyan, as many as 20,000 Iranian citizens visited Armenia during the Nowruz period in 2010, their number in 2009 during the same period was 8,700. This year, some 28,000 are likely to have spent their Nowruz in Armenia.
"From year to year the number of tourists visiting Armenia from Iran is observed to grow. Last year a total of 140,000 citizens of Iran crossed the border into Armenia. And 70 percent of such visitors are families. They also visit our historical and cultural monuments, and even complain that information panels at such sites are not available in Persian," says Apresyan.
For the Iranian tourists, visiting Armenia is also a rare opportunity to see and hear exiled Iranian singers banned in the Islamic Republic. Several such pop stars will give concerts in Yerevan's biggest indoor sports arena in the coming days.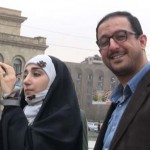 Tereza, a young Armenian working for a local travel agency, expected capacity crowds at the 7,000-seat Hamalir arena as she briskly sold tickets to newly arrived tourists on Monday morning. "If things continue like this, all the seats in the Hamalir will be sold out," she told RFE/RL's Armenian service.
"It's illegal to have such concerts in Iran," explained one Iranian man. "There are some restrictions due to the regime. So they have to come to Armenia for concerts."
Iranian music will also be played in some of Yerevan's night clubs. They have reportedly been booked by Iranian DJs and entertainers.
The influx of Iranian tourists, which began in earnest two years ago, may not be massive by international standards but it creates a logistical headache for Armenian travel agencies grappling with a lack of accommodation and other underdeveloped tourism infrastructure. All Yerevan hotels have already booked practically in full for the next two weeks, forcing them to accommodate many visitors in private apartments or small hotels outside the city.
"We don't have enough hotels," complained Arlen Davudian, the owner of the Tatev Tour agency. "According to our estimates, there are only between 3,700 and 4,000 hotel beds in Yerevan."