NANJING, CHINA — Weightlifter Hakob Mkrtchyan (Armenia) captured first place in the Men's 77kg competition at the 2nd Summer Youth Olympic Games which are held in Nanjing, China, winning Armenia's first gold medal at the competition..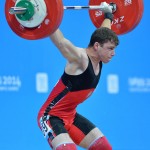 The Armenian athlete lifted a total weight of 319 kg (142 kg in snatch and 177 kg in clean & jerk). Venkat Rahul Ragala (India) claimed silver with 316kg and Zhaslan Kaliyev (Kazakhistan) won the bronze with a total lift of 310kg.
Mkrtchyan who earlier said he came to Nanjing to claim gold was true to his word. He admitted he was not intimidated by the India's lifter attempt to outperform him. "I felt nothing at that moment. Strong competition just thrills me," admitted Mkrtchyan.
This is Armenia's second medal in the tournament, as shooter Hrachik Babayan had became Olympic silver medalist in the Men's 10m Air Rifle competition.