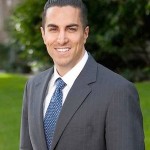 Sacramento, CA – The Assembly Judiciary Committee unanimously passed AB 173, a bill introduced by Assemblyman Mike Gatto (D-Los Angeles) and co-authored by Assemblyman Katcho Achadjian (R-San Luis Obispo). AB 173 extends the deadline for the families of victims of the Armenian Genocide to file claims to December 31, 2016.
"I feel that this is an important bill that will help the Armenian American community find justice for their relatives. They have only had the ability to sue in California courts since 2001," said Assemblyman Gatto in describing the bill which would extend the time during which such lawsuits can be pursued. "This is an issue fair access to the courts."
The bill was strongly opposed during the hearing by the so-called "Turkish Peace and Justice Committee," attacking Assemblyman Gatto for authoring the bill. The "Turkish Peace and Justice Committee" even made statements claiming it spoke for Armenians on this issue. In response, Assemblyman Gatto replied that the legislature should not allow the Turkish lobby to muddy the issue, stating "I think the Armenian community would be offended at the notion [that the Turkish lobby represents the sentiments of Armenians.] I doubt very highly that the [Turkish Peace and Justice Committee] represents the Armenian-American community."
Gatto further stated, "I'm proud to have authored AB 173, and I will continue to the fight in the California Legislature, regardless of the pressure put on me by groups advocating for Turkish national interests."
Mike Gatto represents Glendale, Burbank, and the Los Angeles communities of Silver Lake, Los Feliz, Toluca Lake, and North Hollywood in the California State Assembly. He has served in the Assembly since June 2010.