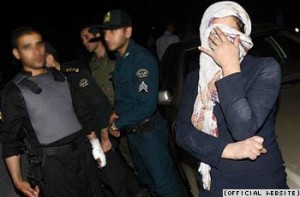 YEREVAN — Authorities in Yerevan on Monday dismissed Iranian state media claims that a U.S. woman reportedly freed by Iran after a four-day detention has traveled to Armenia.
The National Security Service (NSS), which controls all Armenian border crossings, insisted that the woman identified by Iranian officials as Hall Talayan did not enter the Islamic Republic from Armenia last week.
Talayan was reportedly detained by Iranian border guards on suspicion of espionage. Initial news reports from Tehran said that she was held at Norduz, on Iran's border with Armenia. However, some Iranian officials, notably deputy border police chief Ahmad Garavand, said over the weekend that she tried to enter at Jolfa, some 50 kilometers to the west, on the border with Azerbaijan's Nakhichevan exclave.
Garavand said on Iranian state television Sunday that Talayan has confessed to espionage. According to the AFP news agency, the police general told journalists on Saturday that the "American woman spy" was arrested on January 5 "while she was filming under cover as a tourist, and she was on a mission from the U.S. spy agency."
Also on Sunday, the state-run IRIB broadcaster reiterated that she traveled to Iran from Armenia. But contradicting Garavand's claims, it cited an unnamed "high-ranking security official" as saying that the woman was seeking an Iranian visa and never entered Iranian territory. She was denied entry and returned to Armenia on Saturday, it said, according to Reuters.
The NSS categorically denied this. "That woman never used Armenia's territory," a spokesman for the Armenian security agency, Artsvin Baghramian, told RFE/RL's Armenian service. "We have nothing to do with her."
The U.S. State Department, for its part, said Sunday that Talayan is not in Iran at present. "We have located the U.S. citizen who appears to have been the subject of the reports and confirmed that the individual is safe," Mark Toner, a State Department spokesman, told AFP. Toner did not disclose her whereabouts.
The U.S. Embassy in Yerevan likewise declined to specify whether she is now in Armenia or another country. "For reasons of privacy, we generally don't comment on the whereabouts of American citizens," an Embassy official told RFE/RL's Armenian service on Monday.
Reports about the woman's age and identity have also been contradictory. The Iranian Mehr and ISNA news agencies named her as Hal Fayalan, 34. Earlier reports said she is 55.