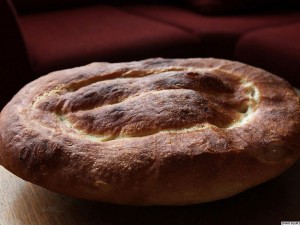 YEREVAN –Prices of bread, a food staple for many Armenians, look set to grow further in Armenia in the coming days amid a continuing rise in the cost of wheat in international markets.
The price of flour sold in wholesale markets in Yerevan has risen by about 10 percent in recent days. Some bread retailers across the city have already adjusted their prices accordingly.
Flour prices already soared by more than 20 percent last summer as a result of a severe drought in Russia, Armenia's leading wheat supplier. The Russian government banned wheat exports in early August, citing heavy damage to grain crops across the country.
Head of the Union of Consumers NGO Armen Poghosyan considers the rise in bread price to be a 'recurrent disaster' for consumers.
Poghosyan says that the State Commission for the Protection of Economic Competition of Armenia (SCPEC) is to be blamed for the rise in bread price, because, according to him SCPEC does not maintain proper oversight and require justification for increases.
"If the price hike is not determined by objective reasons, then the problem must be very attentively controlled by the commission," Poghosyan said at a press conference on Monday, January 24.
Meanwhile, economist Samvel Avagyan who was present at the press conference says that it is necessary for Armenia to enlarge its state wheat reserve (which is only 50,000 tons) in order to avoid price hikes.
"This is only a reserve for one month, and it is laid away for the rainy day and not for settling price difficulties. It is necessary to enlarge the volumes of state wheat reserves. It is necessary to create a reserve for at least three-four months at a state level. This will create the possibility to make interventions and to alleviate the price," Avagyan says, bringing Russia's example, which now sells the wheat, reserved in state reserves since 2005-2006, to its local economic entities at less-inflated prices.