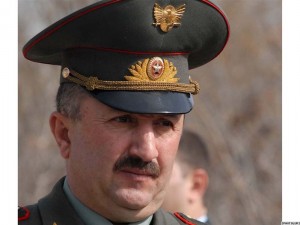 STEPANAKERT — Nagorno-Karabakh's armed forces have spent the past year strengthening their frontline positions and preparing for a possible new war with Azerbaijan, their chief commander said on Tuesday.
"I'm not waiting for [Azerbaijani] provocations, I'm waiting for war," Lieutenant General Movses Hakobian told a news conference in Stepanakert. "Nagorno-Karabakh's Defense Ministry and Defense Army were set up to wage war, and we are getting ready for that every day, every hour."
"If there is a war, we will fight. If not, peace full be guaranteed," he said.
According to Hakobian, Karabakh Armenian forces have dug up new trenches and carried out other "large-scale engineering work" along their main Armenian-Azerbaijani "line of contact" east and north of the territory. He also pointed out that they held their biggest ever military exercises last month.
Armenia's Defense Minister Seyran Ohanian likewise stated in January that Armenian defense fortifications around Karabakh have been beefed up significantly in recent years. "We are maintaining the balance of forces vis-à-vis the Azerbaijani armed forces," Ohanian insisted last month.
Azerbaijan's leaders regularly threaten to forcibly win back Karabakh and Armenian-controlled territories surrounding it. They have also vowed to continue an ongoing military build-up fuelled by Baku's massive oil and gas revenues.
Hakobian said that instances of ceasefire violations by Azerbaijani troops increased by more than half in 2010, resulting in seven casualties among Karabakh Armenian soldiers. He claimed that there were 30 attempted Azerbaijani incursions across the frontline and that his troops thwarted all but one of them.
The Armenian side also killed 41 and wounded 23 enemy soldiers in the course of the year, added Hakobian.
The Armenian death toll reported by the general is lower than the number of soldiers killed in non-combat incidents highlighting hazing and other chronic problems that have plagued the armed forces of both Armenia and Karabakh. Eleven of them were shot dead in three separate incidents that occurred at various Karabakh army units in the second half of this year.
"These three incidents have had a quite serious negative influence on the Defense Army's image," admitted Hakobian. He said the Karabakh army command is determined to "rectify the situation."
Hakobian asserted at the same time that the overall number of various crimes committed by servicemen fell by 14 percent in 2010.