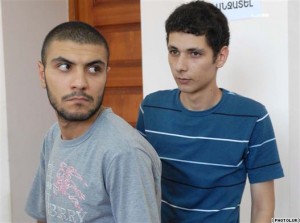 YEREVAN — Two young activists of Armenia's leading opposition group received two-year suspended prison sentences on Tuesday on charges of violent conduct which they rejected as politically motivated.
Davit Kiramijian, 19, and Sargis Gevorgian, 18, were among at least 15 people detained on May 31 in Yerevan in clashes between riot police and several dozen supporters of the opposition Armenian National Congress (HAK). The police used force to keep them from entering the city's newly renovated Liberty Square, Armenia's main venue for political gatherings since the late 1980s.
All detainees except Kiramijian, Gevorgian and his sister Ani, a journalist with the pro-opposition "Haykakan Zhamanak" daily, were released later that day. The Gevorgians were set free pending investigation three days later, while Kiramijian was remanded in two-month pre-trial detention. A Yerevan court unexpectedly ordered the university student's release in July.
The same court convicted Gevorgian of "shoving" a police officer and tearing off one of his epaulettes in an attempt to impede Kiramijian's arrest. The latter was found guilty of "group hooliganism."
The police and prosecutors claim that Kiramijian verbally abused and beat up a passerby together with several other HAK activists. It remains unclear why none of them was also prosecuted.
Both young men strongly denied the accusations throughout the five-month trial. "That the ruling will be illegal and unfounded was evident right from the start of the trial," Gevorgian told RFE/RL's Armenian service after it announcement. "It wasn't a surprise," said Kiramijian.
Liberty Square has been off limits to the HAK ever since the Armenian authorities quashed in March 2008 non-stop protests organized by its leader, former President Levon Ter-Petrosian, following a disputed presidential election. The Yerevan municipality has rejected dozens of rally applications lodged by the opposition alliance in recent months.