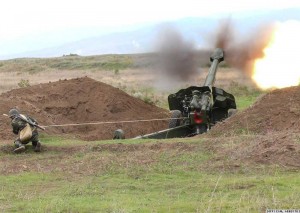 YEREVAN — Armenia is implementation a five-year plan to modernize the nation's armed forces which envisages the acquisition of long-range precision-guided weapons. The plan is referred as the State Program of Developing Weaponry and Military Hardware in 2011-2015, according to which the Armenian military will receive "state-of-the-art weapons" and become "considerably" stronger as a result.
The modernization plan is essentially based on two documents approved in August by another Armenian government commission dealing with defense and national security. One of the documents dealt with army weaponry, while the other detailed measures to develop the Armenian defense industry.
The modernization plan is connected with the persisting risk of another Armenian-Azerbaijani war for Nagorno-Karabakh. The Armenian military is believed to be already equipped with short-range tactical missiles capable of striking military and civilian targets in Azerbaijan.
The planned modernization of the Armenian armed forces comes amid a continuing military build-up in Azerbaijan and Azerbaijani leaders' growing threats to end the Karabakh conflict by force. The Azerbaijani government's defense spending is due to soar further, to over $3 billion, next year. The Armenian defense budget for 2011 is projected at only $405 million.
Armenia has so far been able to at least partially offset the widening spending gap with close military ties with Russia. Its membership in the Russian-led Collective Security Treaty Organization (CSTO) allows it to receive Russian weapons at cut-down prices or even free of charge.