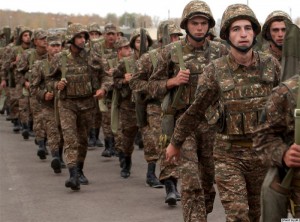 YEREVAN — Armenia's Defense Ministry has launched a hotline for reporting complaints of violence, corruption and other abuses within the army ranks that have had a greater public resonance in recent months.
In a written statement issued on Monday, the ministry said the 24-hour telephone service is designed to help the Armenian military "rapidly react to problems related to military service and issues preoccupying citizens."
That will also "strengthen the army-society link," said the statement. "The secrecy of communication is guaranteed," it added.
The hotline is the latest in a series of measures taken by the Defense Ministry and the army command in response to a spate of non-combat deaths and other violent incidents among servicemen.
Dozens of officers and soldiers have been arrested, fired or demoted since August in connection with these cases highlighting chronic problems within the Armenian army. Defense Minister Seyran Ohanian has repeatedly pledged to crack down on army crime and make the armed forces more transparent to the public.
Late last month, the Defense Ministry announced that army conscripts will now be allowed to possess mobile phones and use them during a particular time of the day to be determined by their commanders. Many of them are believed to have done so secretly until now.
The ministry said that under an agreement reached with Armenia's two leading wireless operators, soldiers will not be charged for outgoing phone calls to their relatives and friends agreeing to pay for them.
It is not yet clear whether military personnel will be encouraged to report grave incidents or other violations witnessed by them through the hotline.