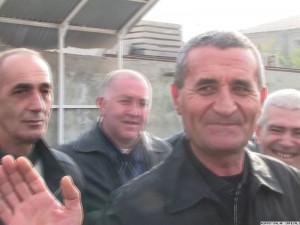 YEREVAN — A well-known Armenian opposition figure was set free on Wednesday after spending over two and a half years in prison on controversial charges stemming from the 2008 post-election unrest in Yerevan.
Mushegh Saghatelian, former chief of Armenia's prisons, was granted parole by a government commission dominated by senior law-enforcement officials earlier this week.
Saghatelian was greeted by relatives, friends and fellow members of the opposition Armenian National Congress (HAK) as he walked out of Yerevan's Vartashen prison..
"I still do not accept by guilt," he told RFE/RL's Armenian service. He said he will continue to fight for leadership in the country alongside the HAK and its top leader, former President Levon Ter-Petrosian.
Saghatelian was among dozens of opposition activists arrested on March 1, 2008 during the break-up of Ter-Petrosian's non-stop demonstrations in Yerevan's Liberty Square. Like many of them, he was charged with resisting arrest by violent means. Prosecutors said he seriously injured a police officer during the pre-dawn operation.
Saghatelian was sentenced to five years in prison and fined 900,000 drams ($2,500) on corresponding charges in October 2008. Both he and the HAK have denounced the case as politically motivated.
Saghatelian is the second senior HAK figure to be released on parole in less than a month. Ashot Manukian, the other freed oppositionist based in Vanadzor, was also jailed for five years on the same charges.
More than a dozen other Ter-Petrosian loyalists arrested following the February 2008 presidential election remain behind bars. The HAK considers them political prisoners and demands their quick release.