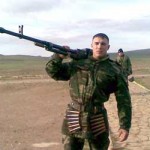 YEREVAN — His Holiness Karekin II has urged Serzh Sarkisian to the return of the body of Azerbaijani soldier, Mubariz Ibrahimov, killed in a June firefight in Nagorno-Karabakh.
Ibrahimov, died along with four Armenian servicemen in an Azerbaijani attack on a Karabakh army outpost in the village of Chaylu, Martakert district. The incident heightened tension in that section of the "line of contact." At least one Armenian and four Azerbaijani soldiers have been shot dead there over the past month.
According to a statement issued by the press service of the Holy See of Echmiadzin, in early September Patriarch Kiril I of Moscow and All Russia appealed to Karekin II on behalf of Leader of Muslims in the Caucasus, Sheikh-ul-Islam Allahshukur Pasha-Zade.
"His Holiness presented the results of the discussion to the Russian Patriarch and, through him, to the Sheikh-ul-Islam, saying that the Armenian side has always been forthcoming and organized the handovers of prisoners of war and bodies of killed servicemen to the Azerbaijani side through the Red Cross international organization," stated Father Vahram Melikian, spokesman for the Holly See.
"The Armenian side is ready to consider such appeals if Azerbaijan also demonstrates readiness for productive cooperation on the restoration of the consideration of such matters in accordance with the requirements of international humanitarian law," he added without elaborating.