YEREVAN (ARMENPRESS) – The upcoming "Navasard" Armenian-Iranian cultural-culinary festival will feature a rich program and draw a large number of tourists, organizers said Wednesday. The festival will take place on August 10 in Sisian, Syunik.
"We managed to make it a traditional and long-awaited festival for many people," said Armenian Tourism Federation President Mekhak Apresyan. "It is a unique regional tourism product and an important factor in directing the flow towards us in the reshaping global tourism market in the post-coronavirus era. This event is very important in terms of promoting cultural heritage and cuisine, presenting one of the results of Armenian-Iranian friendship."
Sisian Boghossian, Chairman of the Tourism Committee of the Ministry of Economy, noted that Iran is one of the target markets for the Armenian tourism industry. Tourism authorities carry out targeted work to attract Iranian tourists.
"Iran is an important market for us, and these festivals help us create a more interesting atmosphere in Armenia and attract more tourists from Iran. Last year was very successful for the festival, and it had quite a large number of visitors. We expect the same and even more activity this year. I myself was born in Iran, and I know Iranian cuisine very well; they have quite tasty dishes. So, I suggest you visit Sisian city and see for yourself," said Sisian Boghosian.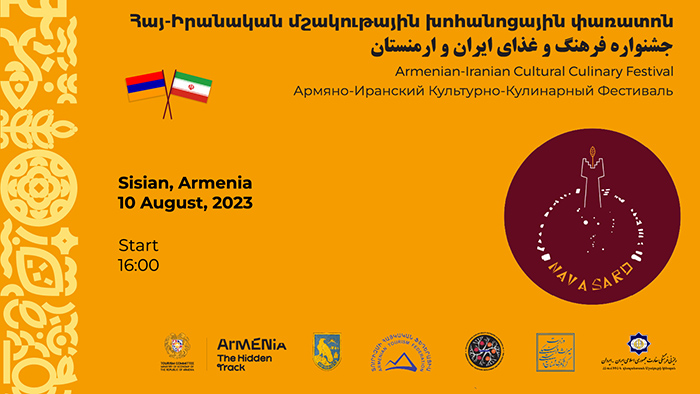 Mohammad-Ali Kiani, the acting cultural adviser at the Iranian Embassy in Armenia, added that a variety of culinary and cultural events will be offered.
"We were allocated 20 booths in the festival. We've done everything to ensure high-quality participation. We involved chefs from both Iran and Armenia, aiming to present to the locals that an Iranian cuisine market is available here as well," said Kiani. He also added that there is a goal to organize such an event in Iran as well, and the venue and dates of the event are being discussed.
Emphasizing the work with Iranian partners, the Chairman of the Development and Preservation of Armenian Culinary Traditions NGO, Sedrak Mamulyan, noted that both sides have a disposition to create a common tourist result and present it to the world.
The festival will feature the renowned Navasard harissa, a festive dish, as well as a cooking competition, Mamulyan said. The event will also include a music and dancing segment.