YEREVAN (Armenpress) — Armenia and China have great potential for cooperation in the military sector, the military attaché of the Chinese embassy, Senior Colonel An Qiang said at a press briefing on August 17. He said he'd do everything to achieve success in the area.
"As military attaché, my priority is to develop cooperation between the two countries in the military sector. Both Armenia and China have cultural similarities. Both Armenia and China went through many difficulties throughout history. And both countries were able to overcome these difficulties. And all of this is the foundation for us to develop cooperation in various areas, including in the military sector. Of course, there's a lot of work to be done. We can cooperate in international peacekeeping, humanitarian de-mining, military education, military reforms and technologies as well. These areas of cooperation have great potential for development. I will do everything for the Armenian-Chinese relations in the military area to develop," the military attaché of the People's Republic of China said.
Speaking about the visit of a delegation led by the Director of the International Research Center of the Chinese defense ministry, An Qiang said that he's personally organized the visit in order to strengthen cooperation.
"The delegation that visited Armenia was very pleased with the results of the meetings. I am sure that cooperation in the military sector between the two countries will be very successful. I will do everything for that," he added.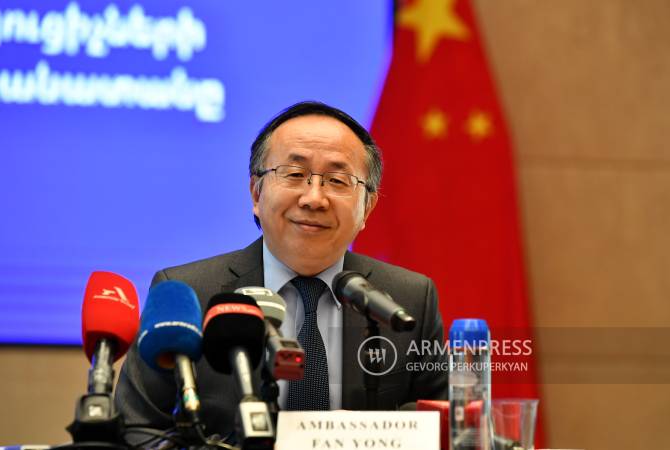 China's Ambassador to Armenia Fan Yong said that China is constantly paying attention to the latest developments around the Lachin Corridor and expresses concern about the current situation and its consequences.
"We always follow the news, and this issue is also very important to us. I think dialogue is the only way to resolve this issue, the two countries should speak and resolve this issue peacefully. We hope Armenia and Azerbaijan would strengthen dialogue and communication, with participation of respective parties, and will persistently solve the existing dispute between the two countries," the Chinese Ambassador said.
The Ambassador added that the issue must be resolved in line with internationally recognized laws and norms of international relations, by maintaining regional peace and stability, as well as prosperity of the people. He said that China supports every diplomatic effort aimed at reaching this goal and is ready to have its constructive contribution in it.