WASHINGTON, DC — The Chief of General Staff of the Armenian Armed Forces, First Deputy Defense Minister, Lieutenant General Edvard Asryan met with Vice Chairman of the Joint Chiefs of Staff of the U.S. Armed Forces, Admiral Christopher Grady and Chief of Staff of the U.S. Air Force, General Charles Brownie on July 18 within the framework of his working visit to the United States, the press service of the Armenian Defense Ministry reported.
The Defense Ministry in Yerevan said on Wednesday that the two sides explored "opportunities for broader cooperation in the Air Force sector," a ministry statement said, adding that "regional security" was also on the agenda.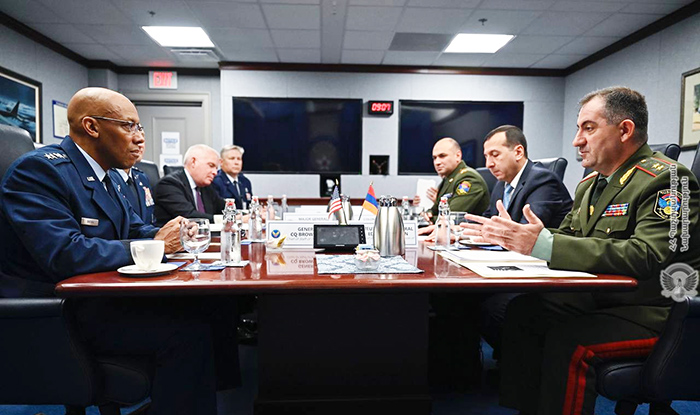 It said during the meetings, a number of issues were discussed regarding the current stage of the Armenian-American defense partnership, upcoming programs, holding joint events, introduction of the "task command" concept as well as opportunities for broader cooperation in the Air Force and regional security issues.
The secretary of Armenia's Security Council, Armen Grigoryan, visited Washington earlier this month for talks with U.S. National Security Adviser Jake Sullivan and Laura Cooper, the U.S. deputy assistant secretary of defense for Russia, Ukraine and Eurasia.
In an interview with the Armenian Service of the Voice of America published last week, Grigoryan said the United States and Armenia are now discussing ways of "opening new doors" in bilateral military cooperation.
"We have made great progress. The results will be visible in the long term," he said without elaborating.