PARIS — The speaker of France's upper house of parliament, Gerard Larcher, has called on the French government to supply defensive weapons to Armenia.
"I called for the immediate reopening of the Lachin corridor, which connects Armenia and Nagorno-Karabakh, and the acceleration of the delivery of defensive weapons by France to Armenia to ensure its security!" Larcher tweeted after meeting with Armenian parliament speaker Alen Simonian in Paris on Thursday.
Larcher is affiliated with The Republicans, France's leading center-right opposition party.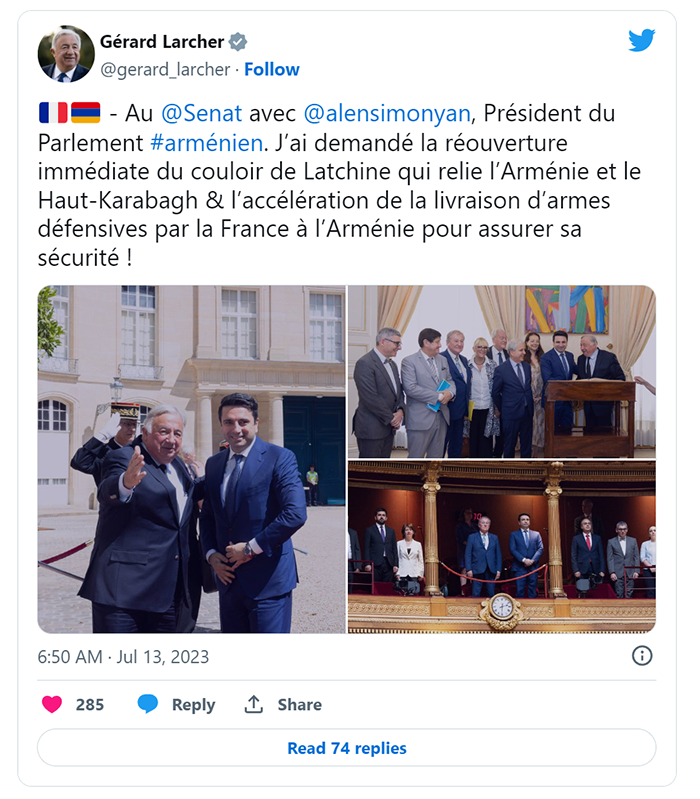 President Emmanuel Macron's government signaled the possibility of such arms supplies when it sent a delegation of French defense officials to Yerevan last October. They met with Defense Minister Suren Papikyan, Armenian army chief Eduard Asryan and High-Technology Minister Robert Khachatryan.
Papikyan visited Paris in September 2022 and June this year. He met with his French counterpart Sebastien Lecornu on both occasions.
"France must help Armenia to defend and protect itself!" Christian Cambon, the chairman of the French Senate's committee on defense and foreign affairs, tweeted after meeting with Papikyan on June 19.