SAN FRANCISCO — On a rainy Wednesday, January 4, 2023, 350 exuberant Bay Area Armenians gathered together to cheer on the Golden State Warriors during an action—packed Armenian Community Night at the Chase Center in San Francisco.
Immediately following a wild-buzzer beater game, Golden State Warriors Head Coach Steve Kerr and Detroit Pistons Assistant Coach Rex Kalamian came together for a lively courtside chat with the community members.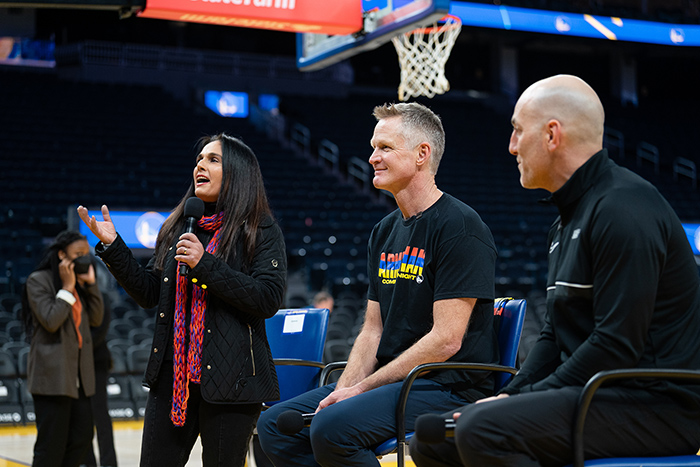 Wearing a customized Armenian Community Night t-shirt that all guests received, Kerr thanked everyone for their support, sharing that his connection with Armenia runs deep.
"It seems not a week goes by when I don't have an Armenian thank me for what my grandparents did 100 years ago and it's truly humbling," Kerr reflected. "I try to think of them at 21, 22 years old.  Imagine that, and traveling to Turkey and Armenia, running an orphanage, and helping to save young children… It's one of the things I'm most proud of in my family."
Steve Kerr's grandparents, Stanley and Elsa Kerr, were instrumental in saving thousands of orphans in Marash from 1919-1922 and getting them safely to Beirut, where they then helped to build and run a Near East Relief orphanage for Armenian boys at Nahr Ibrahim.  Thereafter, they remained in Beirut for most of their lives, educating generations of students, many of them orphans, at the American University of Beirut.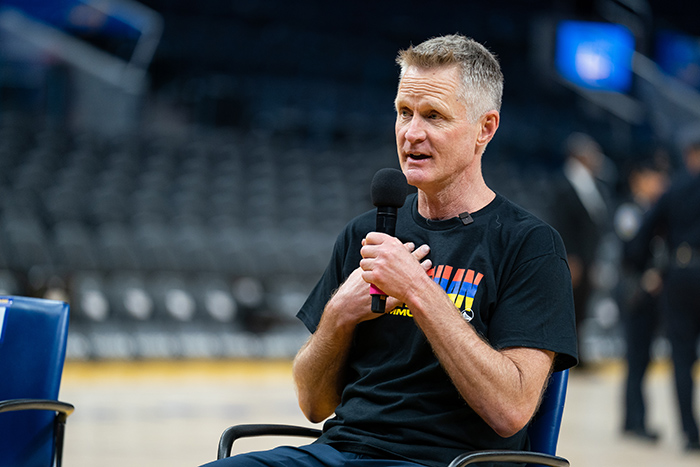 Los Angeles filmmaker Ani Hovannisian, who is currently working on a documentary that follows the giant footsteps of three generations of Kerrs and their century-long legacy of service to humanity, moderated the post-game panel.
Coach Rex Kalamian followed Kerr by recalling the story of his grandmother who survived the Genocide and lived in an orphanage like the one Stanley and Elsa ran, saving her life.  He also addressed the current humanitarian crisis in Artsakh. "We have to keep them [Artsakh's people] in our hearts, in our minds and we have to try to do whatever we can do to push forward and make change there."
The coaches went on to discuss spreading the culture of basketball in Armenia. Kalamian, who coached the Armenian Men's National Basketball team to victory in 2022 talked about introducing a Junior NBA program in Armenia and about the incredible work nonprofit Hoops 4 Hayastan is doing there to build courts and bring the joy of basketball to children, especially in rural areas. A portion of the event's ticket proceeds will be used to support the group's mission.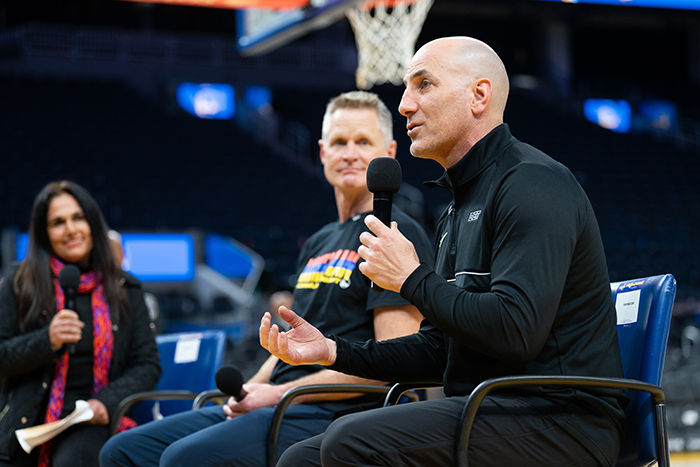 Coach Kerr added, " We need a Basketball Without Borders in Armenia," which is a week-long youth basketball camp that promotes the game and positive social change in different countries each summer with the participation of NBA coaches and players.
The courtside conversation was the culminating event of an evening full of Armenian camaraderie and culture.
Before the game, young Armenian children lined the tunnel and high-fived the players from the Golden State Warriors as they ran onto the court.  The Yerevan Dance Group group performed a traditional Armenian dance, and Piedmont high-school student and KZV Armenian school graduate Danielle Zaroukian sang the national anthem in front of a roaring crowd just before tip-off.
During half-time, community leader Moushig Andonian was honored with the Impact Warrior Award for his more than 40 years of dedication and service to Armenian youth and community in the Bay Area and beyond. "We are a nation of warriors," he said. "I would do it for another 40 years if I could."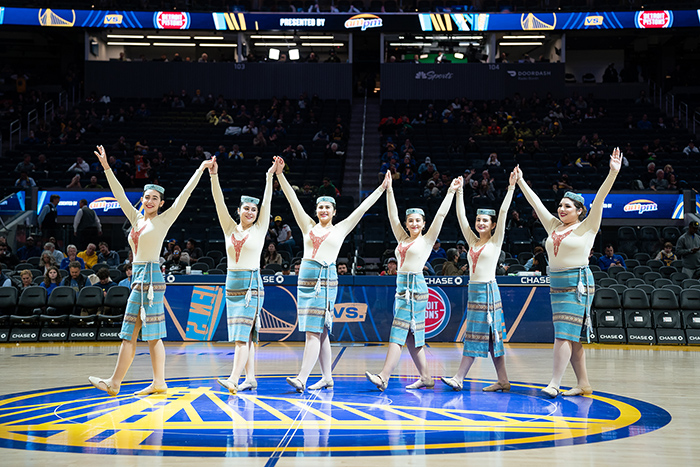 Many Bay Area Armenian organizations and churches came together to participate in this memorable event organized by the Golden State Warriors with the support of Warriors staff, Community Relations Manager Claudia Leist and community member Kim Bardakian Demirjian.  Plans are already underway for next year.