BELMONT, MA — The National Association for Armenian Studies and Research (NAASR) will name its new headquarters in Belmont, MA, after Dr. Vartan Gregorian, President of the philanthropic foundation Carnegie Corporation of New York, fulfilling the request of the building's principle benefactors, Edward and Pamela Avedisian of Lexington, MA.  The new building's official name will be the NAASR Vartan Gregorian Building.
"Vartan Gregorian embodies the values at the heart of NAASR's mission. He has dedicated his entire life to educational advancement and the pursuit of knowledge, engaging in public service throughout his career, and working to better the human condition. We are grateful that we can acknowledge and memorialize his tremendous accomplishments by naming the institution's new headquarters the NAASR Vartan Gregorian Building," said Edward Avedisian.
"I am overwhelmed by this most generous and selfless offer and accept it with humility, and with gratitude," said Gregorian. "I thank NAASR for bringing Armenian history, culture, and values to life through its programming and collections, now visible and accessible to anyone."
"We are proud to recognize Gregorian's distinguished life of service and dedication through our new global center," said Yervant Chekijian, Chairman of the Board. "He is an inspiration for generations to come. We are also sincerely grateful to the Avedisians for their generosity and vision."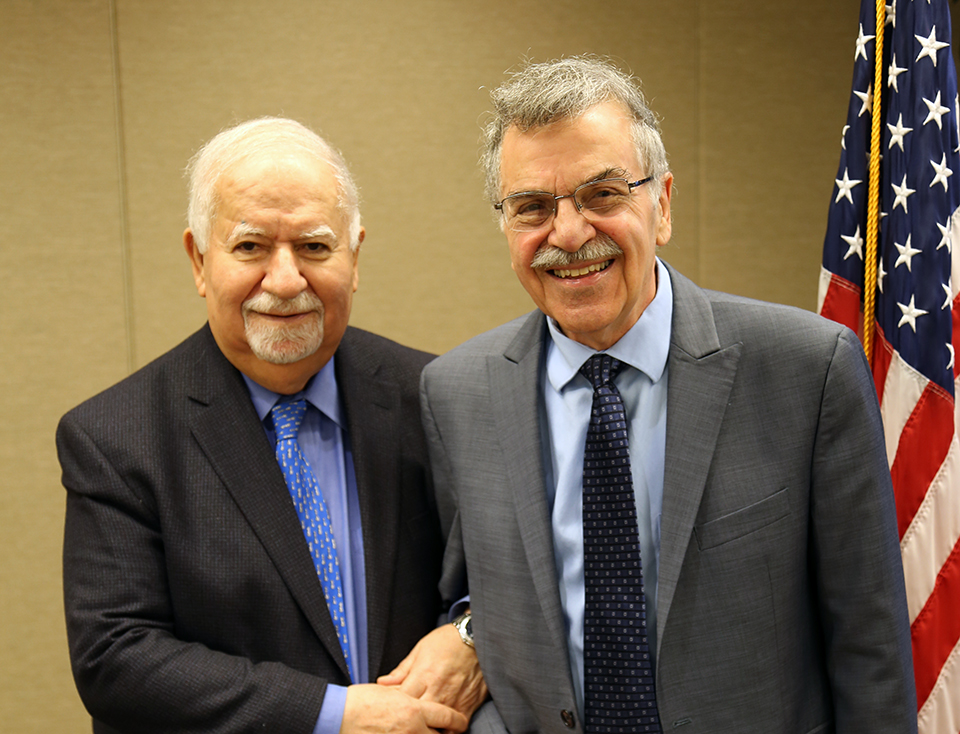 Vartan Gregorian:
Gregorian has had a distinguished career as an academic, scholar, historian, philanthropist, and visionary. Born in Tabriz, Iran, Gregorian received his elementary education in Iran and his secondary education at Collège Arménian in Beirut, Lebanon. In 1956, he entered Stanford University, where he majored in history and the humanities, graduating with honors in 1958. He was awarded a PhD in history and humanities from Stanford in 1964. Gregorian has taught European intellectual history and Middle Eastern history at San Francisco State College, the University of California at Los Angeles, and the University of Texas at Austin.
In 1972, he joined the University of Pennsylvania faculty and was appointed Tarzian Professor of Armenian and Caucasian History and professor of South Asian History. He was founding dean of the Faculty of Arts and Sciences at Penn in 1974 and four years later became its twenty-third provost until 1981. His outstanding tenure at the university has been honored with endowed professorships in English and in the Humanities and through several graduate fellowships in the humanities.
After an academic career spanning two decades, Gregorian served as president of The New York Public Library from 1980 to 1989. The institution includes a network of four research libraries and 83 branch libraries, and during his tenure, Gregorian was widely credited with restoring the status of the library as a financially sound, cultural landmark. In 1989, he was appointed the 16th president of Brown University, where he led a campaign that raised over $500 million, bringing the institution's endowment past the $1 billion mark. Gregorian also oversaw the creation of several new academic departments. In honor of his legacy at the university, a residence quadrangle was named after him, as well as three professorships: the Vartan Gregorian Assistant Professorship, The Brooke Russell Astor Professorship in the Humanities in Honor of Vartan Gregorian, and the Aga Khan Professorship in Islamic Humanities created in honor of Gregorian. In 1997, the City of Providence renamed the Fox Point Public Elementary School after Gregorian to acknowledge his role in strengthening relationships between the university and the community.
In 1997, Gregorian assumed the presidency of one of the country's oldest grantmaking foundations, Carnegie Corporation of New York. His philanthropic work and scholarly accomplishments have been recognized with more than 70 honorary degrees and dozens of significant awards, including the National Humanities Medal, awarded by President William J. Clinton; and the Presidential Medal of Freedom, awarded by President George W. Bush. President George H. W. Bush appointed Gregorian to the J. William Fulbright Board of Foreign Scholarships, and President Barack Obama appointed him to the selection committee of the President's Commission on White House Fellowships. Gregorian has also been decorated by the Austrian, Italian, Portuguese, French, and Armenian governments.
Gregorian is known for his leadership in support of democracy, human rights, and civic engagement, and his efforts have been recognized with honors from numerous nonprofit organizations such as the Council on Foundations' Distinguished Service Award; Aspen Institute's Henry Crown Leadership Award; the Africa-America Institute's Award for Leadership in Higher Education Philanthropy; and a special recognition from PEN America.  Civic honors from state legislatures and municipalities include Massachusetts, Rhode Island, New York, Houston, San Francisco, Fresno, Austin, and New York City. Throughout his illustrious career, Gregorian has written extensively about Armenia and has maintained close ties to the Armenian community. When he was appointed Tarzian Professor at the University of Pennsylvania, Gregorian recruited three professors to teach Armenian history, language, and literature: the late Vahé Oshagan, the late Robert Hewsen, and Michael Stone. In 1999, the head of the Armenian Apostolic Church, his Holiness, Karekin I, bestowed upon Gregorian the St. Gregory the Illuminator Medal, the church's highest honor; and His Holiness Aram I, Catholicos of Cilicia, honored him and his wife, Clare, with the Prince and Princess of Cilicia Medals.
Gregorian is a member of the National Academy of Sciences of Armenia, which awarded him an honorary Doctor of Humane Letters in 2001, following an honorary degree awarded by Yerevan State University in 1995. He is a former trustee of the American University of Armenia, a trustee emeritus of the Dilijan International School of Armenia, and a co-founder the Aurora Humanitarian Initiative with Ruben Vardanyan and Dr. Noubar Afeyan, who established the Vartan Gregorian Scholarship Program in 2018 to support scholarly research of Armenian history. In 2012, Gregorian was presented with the Republic of Armenia's Medal of Mkhitar Gosh, and in 2017, he was the recipient of the country's Order of Honor.
Edward Avedisian:
Avedisian, a NAASR Board member, is a world-class clarinetist who performed with the Boston Pops Orchestra and the Boston Ballet's orchestra before changing careers to focus on investments. Through his philanthropy, Avedisian has donated generously to the Armenian community and beyond. He is a trustee of the American University of Armenia (AUA), where he was the principal benefactor of the new 100,000 square foot Paramaz Avedisian Building. He is also the principal benefactor of the Khoren and Shooshanig Avedisian K-12 School and Community Center in an underprivileged section of the capital city, Yerevan.
Avedisian is a 2016 recipient of the Ellis Island Medal of Honor. He is a director on the board of the Armenian Missionary Association of America (AMAA), and he recently gave a transformative gift to the Rhode Island College of Pharmacy in honor of his late brother Paramaz Avedisian.
NAASR's New Headquarters:
NAASR's new headquarters, designed by a talented team from the architectural, design and engineering firm of Symmes, Maini and McKee, led by Ara Krafian, will be a stunning three-story building with a soaring glass façade, allowing natural light to illuminate the interior. A variety of Armenian features are incorporated into the design, including a hand-carved wooden door, which a master artisan in Armenia is carving, and an Armenian Alphabet Wall.
The general contractor, Altair Construction, anticipates completion by the fall of 2019.  "We invite everyone to attend our Grand Opening next year on November 1st through 3rd," said Chekijian.
The building will have many welcoming spaces for the public to gather as well as a secure environment for NAASR's rare book Mardigian Library, one of the top five Armenian libraries open to the public in the diaspora. It will soon total 40,000 books, with some dating back to the 1600s, and rare periodicals dating back to the 1800s, as well as the unique personal archives of prominent scholars, early Armenian-Americans, and religious leaders.
The Commonwealth of Massachusetts has given full support with a capital grant from the Massachusetts Cultural Council's Cultural Facilities Fund and MassDevelopment of $225,000 awarded in 2017, for installation of an elevator, other accessibility features, and fire suppression.
The NAASR staff is working in temporary offices at the AGBU-New England headquarters on Mt. Auburn Street in Watertown and continuing its programming and bookstore on-site and online at www.naasr.org.
Founded in 1955, NAASR is one of the world's leading resources for advancing Armenian Studies, connecting scholars of Armenian Studies and the public, and preserving and enriching Armenian culture, history, and identity for future generations.
To date, NAASR has financial commitments for more than $6 million of the $6.5 million needed to build the new center. The nonprofit invites the community to become a lasting part of this inspiring center, with opportunities to contribute at all levels. Please contact Sarah Ignatius, Executive Director, at [email protected] or 617-489-1610. Learn more about NAASR and its mission at  www.naasr.org.