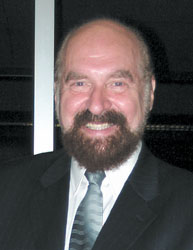 MISSION HILLS, CA – Ararat-Eskijian Museum (AEM) recently acquired the rich library of Dr. Robert Hewsen. Born in New York to Armenian-American parents, Dr. Hewsen received his Ph.D. from Georgetown University in 1967, and taught Byzantine and Russian history at Rowan University for over 30 years. An expert in the history of the South Caucasus, Dr. Hewsen has written multiple books and articles on this topic. His publication in 2001, Armenia: A Historical Atlas, received wide acclaim and is considered a monumental achievement in Armenian studies.
Besides the valuable items Dr. Hewsen amassed over his distinguished academic career, his library is compiled from significant portions of the libraries of two other eminent scholars who worked before him: Dr. Cyril Toumanoff (1913-1997) and Dr. Nicholas Adontz (1871-1942).
Dr. Adontz, a philologist and historian specializing in Byzantine and Armenian studies, was born near the city of Sisian in modern-day Armenia. He received his Ph.D. from the University of St. Petersburg in 1916, and after several teaching positions, in 1930, he headed the Department of Armenian Studies at the University of Brussels. His extensive studies and writings on ancient and medieval Armenian history made him a prominent figure in the field.
Dr. Toumanoff, the son of Georgian and Russian noble families, was an historian and genealogist specializing in medieval Georgia, Armenia, Iran and the Byzantine Empire. His works are considered to have significantly influenced western scholarship of the medieval Caucasus. Born in the Russian Empire, he escaped to the U.S. after the Bolshevik Revolution. During his studies at Harvard University, he traveled to Brussels to study Armenology under Dr. Adontz. He later obtained his Ph.D. from Georgetown University in 1943, where he taught for almost 30 years and counted Dr. Hewsen among his students.
"While Dr. Hewsen inherited the library of his mentor Dr. Toumanoff, who himself had inherited the library of his mentor Dr. Adontz, Ararat-Eskijian Museum has now acquired their remarkable collection of scholarly treasures," said AEM Director Maggie Mangassarian-Goschin. Once catalogued, AEM will make Dr. Hewsen's library available to scholars and researchers worldwide, thus furthering the study of Armenian history and heritage.