ISTANBUL (Civilnet.com) — On Saturday, August 25, several protesters, including some notable Armenians, were detained by police in Istanbul. The event took place near the Galatasaray Lise, on Istiklal Avenue in Istanbul's Beyoglu District. The site has been the venue for weekly gatherings by a group called "The Saturday Mothers." Their 30-minute gathering every Saturday, at noon, has been in remembrance of their family members who were disappeared 20-30 years ago as a result of police action.
This week was the 700th such gathering. Perhaps coincidentally, perhaps not wanting larger crowds to gather, the authorities had indicated that the gathering would no longer be allowed. In response, an even larger number of protesters appeared, among them Member of Parliament Garo Paylan, Arat Dink, an architect and the son of slain journalist and activist Hrant Dink, and Rober Koptas, Editor in Chief of the Aras Publishing House, and formerly editor of the Agos daily newspaper.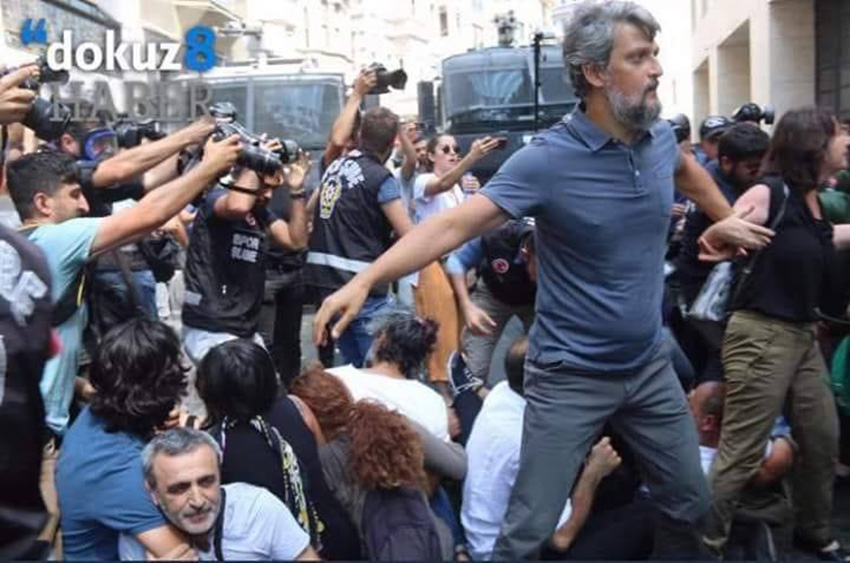 Nearly four dozen people — mostly relatives of those who had disappeared — were detained then released after several hours. Among those detained was Rober Koptas. In Turkey's current political climate of increased authoritarianism, social media was full of comments and photos including this one by Vedat Arik, which captures the visceral response of the crowd in trying to protect Arat Dink, and prevent his detention. Dink was not detained. Neither was Garo Paylan, because of his parliamentary status.
According to one of the protesters, the gathering, which has been mostly peaceful for more than a decade, turned violent when the police attempted to arrest some of the participants. They announced that around midnight the night before, the Istanbul Governor had, at the request of the Ministry of the Interior, banned the gathering. When the crowd refused to move, the police used water cannons and tear gas. It is unclear whether the ban will extend to next week, and how the public will react to the such a ban for something so deeply-rooted and symbolic.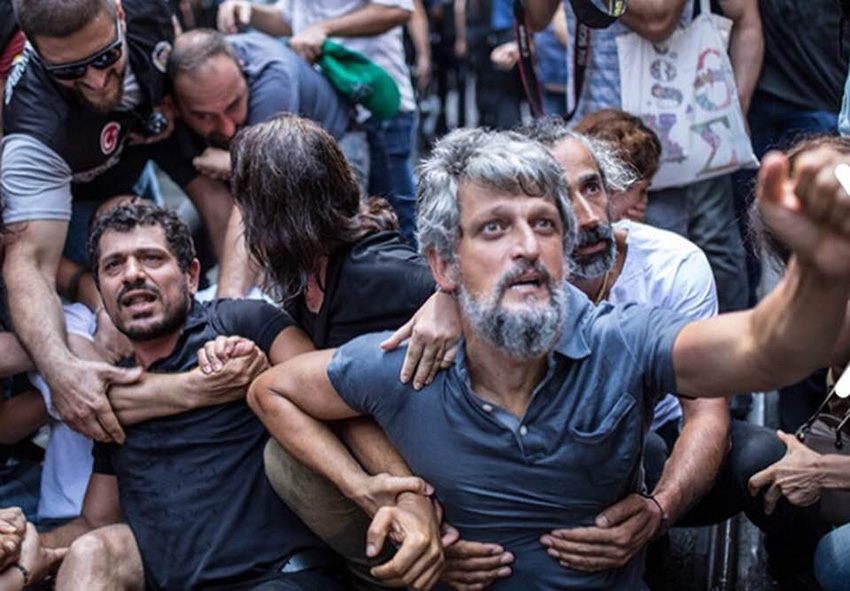 Rober Koptas, upon his release, observed that "it's not a coincidence that there were Armenians among the protesters. The Saturday Mothers are the oldest, longest civil disobedience tradition in Turkey. This has been a place to demonstrate for people killed by the state but where criminals were never put on trial. Obviously, it reminds us of everything that has happened to our people."