The Armenian musical tradition has always been integral to the Armenian people – and when assistance was needed at the renowned Tchaikovsky Music School in Yerevan – Armenia Fund USA, a non-profit focused on education, infrastructure and community in the homeland, responded to the ambitious challenge.
Following a massive two million dollar restoration of the school, which famed composer Aram Khachaturian once referred to as a "foundry of musicians," it has been transformed into a world-class institution. The school's accomplished alumni, who now perform around the globe, reflect on the significance of the school in their lives and for the future of Armenia.
Pianist, composer and conductor Karen Hakobyan said the school had an "enormous impact" on his early development and he was "pleased" to see the Tchaikovsky Music School reconstruction project reach its completion. A 2001 graduate, Hakobyan now serves as Armenia Fund's Cultural Program Advisor and maintains his ties with the legendary institution.
"Being an alumnus of Tchaikovsky, I knew exactly how much the school was in need of major reconstruction and could fully appreciate the impact such a project would have on the development of the future generations of students," said Hakobyan, who is the founder and artistic director of New York's Pegasus: The Orchestra.
Since the school opened its doors in 1939, it has provided education, training and guidance for generations of students, who became prodigies and virtuosos, greatly impacting the classical music genre.
"The school's influence on the classical music world reaches far beyond the borders of Armenia," said Lisa Stepanian, Executive Director of Armenia Fund USA. "Many past and living Armenian musicians, who are alumni of the school, have enjoyed critical acclaim in esteemed orchestras and prestigious conservatories in Europe and the West."
Tracing the musical tradition of Armenians to its forbearers, pianist and composer Hayk Arsenyan, who studied at the Tchaikovsky Music School between 1985 and 1993, said he believes "strongly that Armenians have something innate about music, perhaps on a genetic level" and the importance of "investing in something we are strong in and we are definitely strong in music."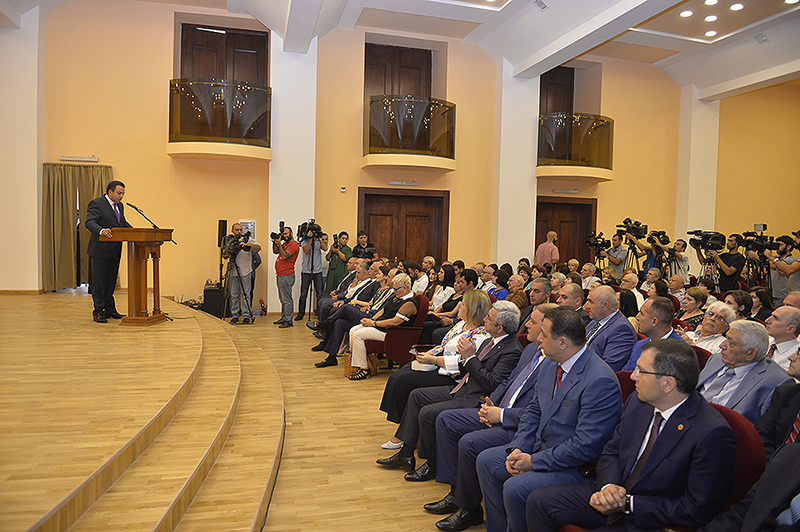 It was in keeping that strong cultural thread alive that Armenia Fund USA spearheaded fundraising initiatives to renovate the physical structure of the Tchaikovsky Music School, which was completed a year and a half ago, modernizing it into a state-of-the-art facility its talented students deserve to study in.
Providing a full academic curriculum to its 600 students aged 6-18, the Tchaikovsky Music School had been suffering from poor infrastructure after decades of neglect following the collapse of the Soviet Union. Through Armenia Fund USA's efforts, the school became revamped and equipped with new elevators, wheelchair ramps, windows and doors as well as a ventilation and water supply system, in addition to earthquake proof construction. Its renovated recital halls and state-of-the-art auditorium facilitated the hours-long practices of students, who can now learn and perform in a physically safe environment.
"It was a privilege to take my very first steps as a musician and as a human being in an environment where every day was a gift and a joy," said pianist Sofya Melikyan. "The reconstruction of the school is an initiative of enormous importance because it gives the future generations of talented young Armenians the possibility to grow and to develop their potential in optimal conditions."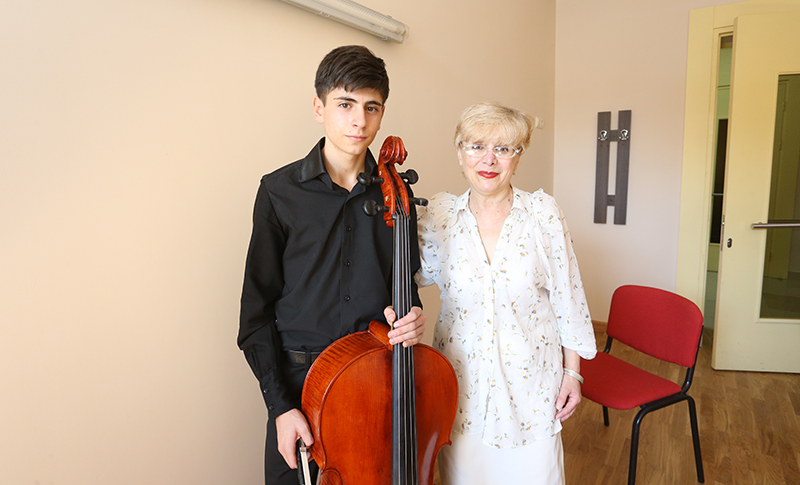 While the multi-year renovations have been quite beneficial, support of the school needs to continue, according to Stepanian.
"Although the physical structure of the school has been renovated, there is an ongoing need to maintain the school and uphold its standards," said Stepanian, noting new initiatives in need of funding, including exchange programs in European countries as well as establishing an exchange program with music academies in the United States.
"There have to be sustainable improvements of buildings as well as instruments and programming because of the importance of music to the Armenian culture."
One ongoing need is quality instruments students can practice and perform on. Recently, Armenia Fund's France and USA affiliates together donated ten pianos to the Tchaikovsky Music School.
"Piano lessons form the base of our students' musical education, no matter which instrument they specialize in," said principal Martun Kostandyan. "The pianos we've received as gifts from our benefactors will certainly further raise the quality of education at our school."
In addition to providing instruments, Armenia Fund USA is also focusing on strengthening relationships with master class instructors, guest lecturers and student mentors, an important initiative which alumni benefited from when they themselves were students.
For Arsenyan, he remembers the esteemed musicians from abroad, particularly Europe, who gave master classes to students and coach them in chamber music. He also notes the "incredible orchestras" at the school and the chance to participate in competitions, which "gave us a lot of opportunities to tour and perform in different places worldwide."
The Tchaikovsky Music School has long been known as the premier music academy in Armenia, where 80% of its graduates continue onto the selective Komitas State Conservatory of Yerevan, and where many skilled and talented musicians took their first steps in their musical journeys and careers.
"Looking back I feel so fortunate to have attended one of the best music schools in the former Soviet Union," said Melikyan. "Tchaikovsky Music School gave me that very strong background and base, which has helped me throughout my whole life path."
"Starting my education at Tchaikovsky Music School gave me the opportunity to continue my studies at the conservatory of my choice in New York City at The Julliard School," said cellist Lilit Kurdiyan. "The foundation of my musical education I received at Tchaikovsky Music School was crucial for me to becoming a musician."
While all four musicians found great acclaim internationally, studying at renowned conservatories and becoming award-winning musicians, their bonds to their alma mater remain strong as they seek ways to help the next generation of students.
"It's my duty to create such opportunities for other students so they can also grow up, graduate and think back to their school experience," said Arsenyan, who gives master classes at the Tchaikovksy Music School and is a long-time faculty member at New York University's Tisch School of the Arts. He emphasized the importance of receiving early childhood training and education at the Tchaikovsky Music School for free and the significance of continuing that trend with the current generation of students so they can "get to the West and bring knowledge and opportunities back to the East.
"It's a cycle," said Arsenyan. "You need to get to give."
Kurdiyan will be returning to Yerevan this May to perform with The Armenian National Philharmonic Orchestra in both Yerevan and Artsakh and she looks forward to seeing her former school in a new light and to contribute with master classes in order to "give back in the form of musical advice and share our unique experiences."
"A lot of my classmates have done so well," said Kurdiyan. "In my case, the Tchaikovsky Music School's teachers, students and parents allowed me to pursue my dreams and become a professional musician."
She also firmly believes that financial support should be given to schools in Armenia because music schools need proper equipment to purchase new and fine quality musical instruments because "those are essential for everyday music making."
"Growing up in Armenia, which has such a rich cultural and musical tradition, was the perfect environment for a young aspiring musician," said Hakobyan. "The talented Armenian youth need and deserve music education, which is integral to human education and development."
Taleen Babayan