YEREVAN (RFE/RL) — At least 200 people were detained in Yerevan on Friday as the Armenian police tried to stop opposition supporters from again blocking streets in protest against Prime Minister Serzh Sarkisian. Thousands of demonstrators took to the streets of the capital for an eighth straight day on April 20.
The protests mainly involving young people resumed in various parts of the Armenian capital in the morning following opposition leader Nikol Pashinian's calls for a "total blockade" of streets as well as roads leading to the city.
Hundreds of protesters led by Pashinian marched through Yerevan's northern and western districts, urging Armenians to "reject Serzh" and again rally in central Republic Square in the evening. They were greeted by many bystanders and car drivers honking their horns in response to Pashinian's appeal to "beep if you are against Serzh." Many car horns reverberated throughout the city.
One of the city's main bridges was blocked by three heavy trucks when the crowd reached early in the afternoon. The truck drivers left their vehicles parked there and joined the Pashinian-led march.
Mikayel Ghukasian, a 23-year-old student from Yerevan State University, told RFE/RL that the Armenian "people want changes."
"People come here because they are unhappy about the situation in the country, unhappy about the developments in the country over the past 10 years, and do not want the country to continue in the same direction," he said. "People want changes and they want the government to hear their voice and make good on its promises."
Another protester, Mikayel Nazarian, said that he has seen protesters with a wide range of social and political backgrounds.
"The uniqueness of [these protests] is that everyone is here – rightists, leftists, centrists. From anarchists to nationalists – all are here. This is a situation when a conservative society and a more progressive society or, putting it more bluntly, traditionalists and LGBT community people can sit together in one place," Nazarian said. "This already means that there is a great change in this society."
Meanwhile, smaller groups of protesters tried to shut down traffic in several other parts of Yerevan. They were confronted by riot police keen to keep the roads open. Dozens of protesters were detained as a result.
Several hundred employees one of the country's largest information technology firms, Synopsys Armenia, went on strike and blocked a major street adjacent to their company's offices. Police intervened to reopen Arshakuniats Avenue to traffic 30 minutes later.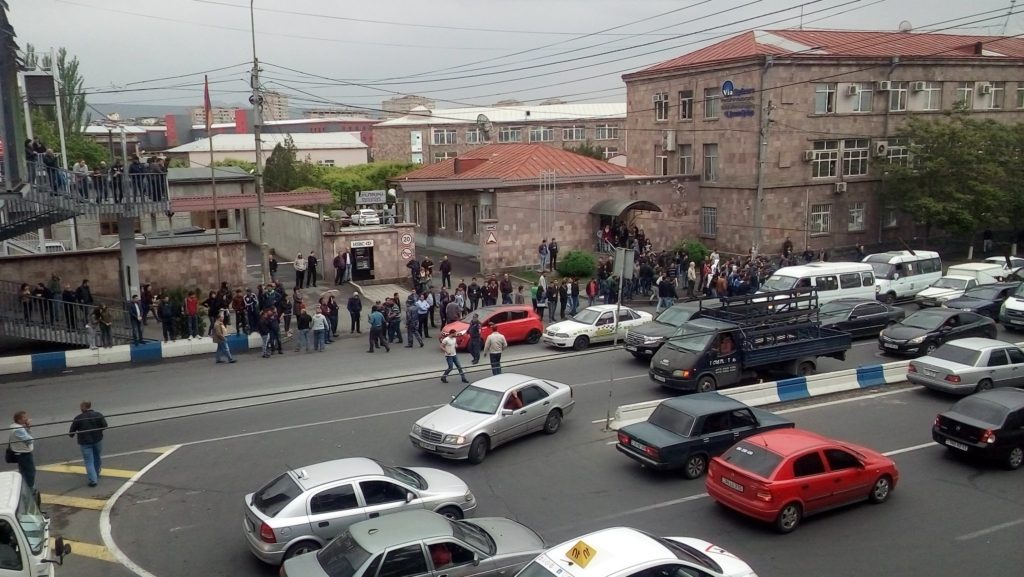 Synopsys engineers were joined by other protesters later in the afternoon. More than two hundred students marched unimpeded through downtown Yerevan in the meantime.
According to the police, the total number of detainees stood at 200. RFE/RL correspondents witnessed two dozen people bundled into police vans, personal cars and even public buses used by the police. Plainclothes policemen were also involved in the operation.
Video footage showed men in plainclothes shoving protesters in unmarked cars. It was unclear whether they were police officers and whether those they apprehended were counted among those officially detained.
The police defended the detentions, saying that the protesters are not legally allowed to block streets and law-enforcement officers have to restore "public order." A police statement warned that failure to obey officers' orders will lead to "negative legal consequences."
Rallies continued in the evening with thousands of opposition supporters gathered in Yerevan's central Republic Square.
Opposition lawmaker Arafat Mirzoyan told the gathering that government officials have been offering dialogue with the opposition in recent days.
"We are ready to have dialogue with them only on one issue: the capitulation of Serzh Sarkisian and the [ruling] Republican Party of Armenia," he said.
Protesters also rallied in Armenia's second largest city, Gyumri, where they attempted to block a highway leading to Yerevan, and in Vanadzor, the third largest city in the country of about 3 million people.