YEREVAN (RFE/RL) — Greek Defense Minister Panos Kammenos spoke of "common security challenges and threats" facing Greece and Armenia as he began a two-day visit to Yerevan on Thursday.
"Greece and Armenia have always stood and will always stand together," Kammenos said after talks with his Armenian counterpart Vigen Sargsian. "We share common values, a common history, common victims of genocides of the Armenian and Greek peoples and continue to have problems with the same friends and allies."
"Armenia and Greece are confronting common security challenges and threats, which require from the two countries a common approach and mutual understanding as well as a strong political will to act effectively," he told a joint news conference.
The remarks were a clear reference at Turkey with which Greece and Armenia share a long history of mutual animosity that cements a warm rapport between the two Christian nations.
Greece's Prime Minister Alexis Tsipras cited their "history of suffering and persecution" when he met with Armenian President Serzh Sarkisian in Athens two years ago. Tsipras said that both peoples were victims of genocide perpetrated by the Ottoman Turks during World War One. Greek President Prokopis Pavlopoulos echoed that remark.
Turkey condemned those statements. "Solidarity between Greece and Armenia is built upon a joint hostility and slander language directed against the Turkish identity," a Turkish Foreign Ministry spokesman charged in March 2016. Official Yerevan dismissed the Turkish criticism.
Kammenos on Thursday accused Turkish President Recep Tayyip Erdogan of "dreaming" about restoring the Ottoman Empire. That policy, he said, is "pushing Turkey away from Europe, the international community and international law."
Sargsian said that relations with Turkey were among the issues on the agenda of his talks with Kammenos. He said they both rejected Ankara's "policy of threats and preconditions" towards neighbors. They also "reaffirmed common approaches to international and regional security issues," added the Armenian defense minister.
Sargsian also praised Greek-Armenian military ties, saying that they are being "expanded year after year." He thanked Athens for its military assistance to Yerevan and, in particular, the fact that around 170 officers serving in the Armenian army have studied in Greek military academies.
Bilateral cooperation also has a "military-technical component," Sargsian went on, using a euphemism for mutual supplies of weapons and other military equipment. He did not go into details.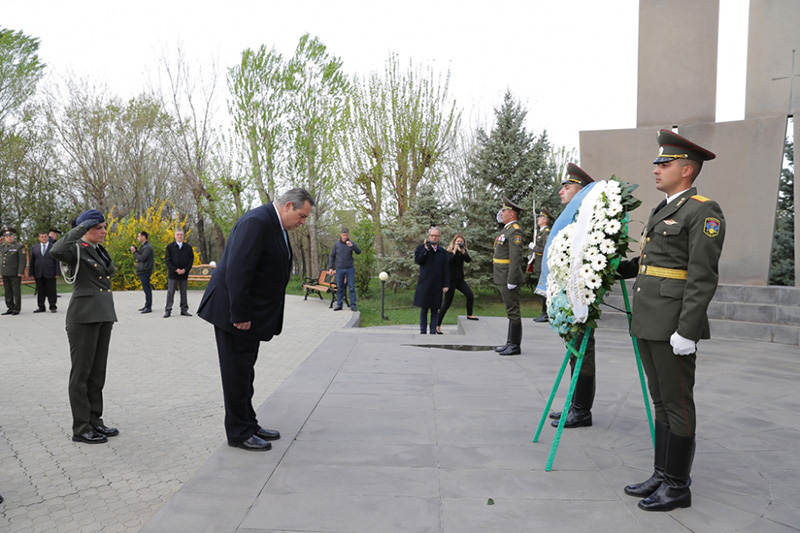 Kammenos was also scheduled to meet with President Sarkisian. According to the Armenian Defense Ministry, his itinerary also included a visit to the Yerablur military cemetery in Yerevan where hundreds of Armenians killed in the war with Azerbaijan were laid to rest. The ministry emphasized that Kammenos is the first foreign defense minister to lay flowers there.