Perfect Armenia Sweep Their Way to the Gold
ANDORRA LA VELLA (FIBA.com) – Armenia dominated from Day 1, and finished the tournament with six wins in as many games to take gold.
Gibraltar were holding on in the Final, but a 27-15 second quarter handed Armenia a 50-33 lead at the half. They were on cruise control the rest of the way, finishing with an 88-70 triumph to claim not only their first gold at the event, but also their first-ever medal at the FIBA U16 European Championship, Division C.
Georgii Shakhnazarov led the way in the final with 27 points, connecting on 4-of-10 from three-point range. Aleksey Chizhenok had a higher player efficiency rating, a game-high 38, with his 20 points on 9-of-14 from the field, 18 rebounds, 3 blocks and 2 steals. David Karamyan scored 17 points, Nikita Galtsev was the leading rebounder with 20 points, and he also had 10 points in the Final.
Gibraltar trailed by as many as 31 points in the game, and Alejandro Garcia Tejon will have a memory of a Final double-double with 28 points and 12 rebounds. Captain Jamie Mesilio was the only other player in double digits for Gibraltar, finishing with 15 points.
Earlier in the semi-finals, Armenia overturned a 15-point deficit to hand Azerbaijan an 88-76 defeat to reach the Finals. A massive 34-16 fourth quarter was the key, as Georgii Shakhnazarov exploded for 36 points, 6 rebounds and 3 assists. Nikita Galtsev was equally impressive, a 16-point, 19-rebound double-double, with 5 blocks to his name.
Aleksey Chizhenok contributed with 12 points and 14 boards, and Mikia Avedian was the last man in double digits with 11 points, 8 rebounds and 7 assists.

Armenia Take Their First-Ever Gold on a Magnificent Triple-Double by MVP Aslanian
GIBRALTAR (FIBA.com) – A stunning triple-double by Anna Aslanian paved the way for Armenia to a 63-44 Final win over Malta.
The entire team from Malta had six blocks throughout the Championship. Aslanian saved twice as many just for the Final outing, finishing the game with 22 points, 31 rebounds, 12 blocks and 7 assists. She almost singlehandedly outrebounded Malta, who had 39 rebounds.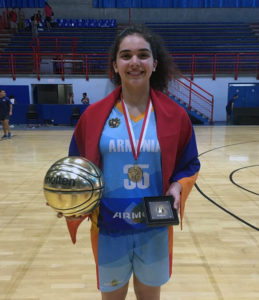 Aslanian's performance gave her a 57 player efficiency rating, and she had a nice supporting cast in Kristina Melikyan and Ani Hovhannisyan. Melikyan collected 17 points, Hovhannisyan had 16, as Armenia played superb defense in the second half and held Malta to just 19 points after the break.
Malta struggled with their shooting percentage, connecting on 19-of-79 shots from the field. With such a poor shooting performance, they could not make their 18-7 edge in steals count. Michaela Zammit Cordina was their lone ranger in double figures with 15 points.
Joining them on the podium were Georgia after beating Kosovo 66-45 in third place matvh-up.