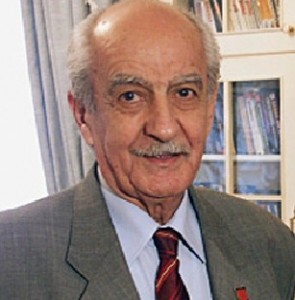 MOSCOW (Panorama.am) — The unique diamond kept in the Russian State Fund of Precious Metals and Precious Stones (Gokhran of Russia) under the Ministry of Finance of the Russian Federation has been named after legendary Soviet intelligence officer Armenian Gevorg Vardanyan and his wife Gohar.
Rusarminfo.ru reports, the decision came on the occasion of the 95th anniversary of the Soviet intelligence directorate dealing with unofficial spies.
Gevorg Vardanyan was primarily responsible for thwarting Operation Long Jump, concocted by Adolf Hitler, headed by Ernst Kaltenbrunner, and led by Otto Skorzeny, which was an attempt to assassinate Josef Stalin, Franklin Delano Roosevelt and Winston Churchill at the Tehran conference in 1943.
Born in southern Russia to an ethnic Armenian family, Vartanyan for decades worked as an undercover agent for the Soviet KGB in different countries and Iran in particular. Working under the codename Amir, Vartanyan led a spy group which is believed to have exposed hundreds of agents working for Nazi Germany's intelligence in Iran.
According to the Russian Foreign Intelligence Service (SVR), Vartanyan also infiltrated in 1942 a British spy school in Tehran that allegedly trained agents for undercover operations in the Soviet Union. He continued to operate for the Soviet intelligence abroad, in tandem with his wife Gohar, after World War II.
Vardanyan passed away in 2012 at the age of 87. He is the first Soviet spy who was honored as Soviet Union hero during his lifetime.
Vartanyan received an Armenian state award, the Order of Honor, in 2009. Armenia's National Security Service (NSS) honored him with a medal in 2004.