BERLIN – The Armenian government failed to ensure meaningful and credible accountability for law enforcement officials responsible for excessive and disproportionate force against peaceful protesters, Human Rights Watch said today in its World Report 2017.
In July 2016, the authorities used excessive force against peaceful protesters and assaulted journalists reporting on demonstrations in the capital, Yerevan. Authorities arbitrarily detained dozens of protest leaders and participants, pressing unjustified criminal charges against them and denying some of them basic rights of detainees.
"Six months later, we are still waiting for accountability for abuses committed by law enforcement during Yerevan's July protests," said Giorgi Gogia, South Caucasus director at Human Rights Watch. "Authorities were swift to prosecute numerous protesters, but have not credibly investigated, much less prosecuted, abusive police officials with the same rigor."
In the 687-page World Report, its 27th edition, Human Rights Watch reviews human rights practices in more than 90 countries. In his introductory essay, Executive Director Kenneth Roth writes that a new generation of authoritarian populists seeks to overturn the concept of human rights protections, treating rights as an impediment to the majority will. For those who feel left behind by the global economy and increasingly fear violent crime, civil society groups, the media, and the public have key roles to play in reaffirming the values on which rights-respecting democracy has been built.
Human Rights Watch also identified other serious human rights concerns in Armenia, including domestic violence, violence and discrimination based on sexual orientation and gender identity, and unnecessary restrictions on access to pain medications for people with life-limiting illnesses.
The largely peaceful protests erupted after armed men from the radical opposition group, Founding Parliament, seized a police station on July 17, 2016, killing one policeman and taking several hostages. Before the gunmen surrendered on July 31, public support for them and disaffection with the government grew into a protest movement.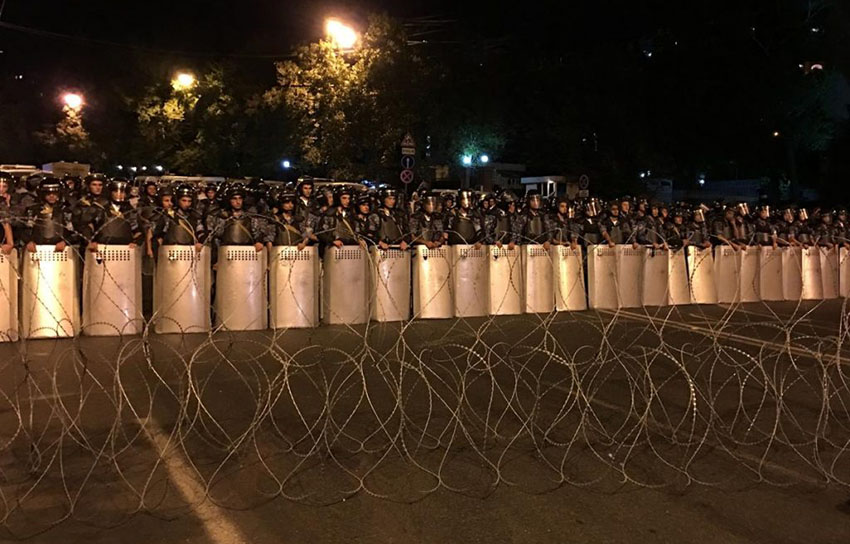 The police response was heavy-handed at times. On July 29, police fired stun grenades into peaceful crowds in the neighborhood of the seized police station, causing first- and second-degree burns and fragmentation wounds on some demonstrators and journalists. Police, and unidentified people in civilian clothes acting with them, attacked the protesters, punching, kicking, and using wooden clubs and iron bars to beat some protesters and detain many.
In July and August, authorities also arbitrarily detained dozens of people linked to the protests.
The authorities promptly opened an investigation into the police misconduct, but the investigation has led to limited accountability. The authorities sacked the Yerevan police chief for "failing to prevent violent attacks on protesters and journalists," and suspended or reprimanded 17 other police officials, but no criminal charges have been brought against any officials. In December, Armenian President Serge Sarkisyan awarded the Yerevan deputy police chief, who participated in police operations against protestors on July 29, a medal for "excellent maintenance of public order."
Criminal trials against numerous protesters and protest organizers are ongoing. At least seven people have been sentenced to prison terms ranging from one to three-and-a-half years. One of them was also fined. At least five other people received conditional sentences and one was only fined. The charges included resisting police and interfering with the work of a journalist. These 13 defendants all pleaded guilty, in part to be guaranteed a lesser sentence than the maximum allowed by law.
"Accountability for police violence is essential to rebuild public trust at a time when many people in Armenia feel the government isn't listening to their concerns," Gogia said.