PONTIAC, MI (The Oakland Press) — Ramela Carman, a longtime Oakland County resident and one of the world's last survivors of the Armenian Genocide, has died at age 102.
Visitation will be from 6 to 8 p.m. Monday, Aug. 8, at St. John Armenian Church, 22001 Northwestern Highway in Southfield. A prayer service will be held at 7:30 p.m. Monday.
Additional visitation will be held at the church from 10 a.m. Tuesday until her funeral at 11 a.m. Interment will be in Woodlawn Cemetery in Detroit.
Mrs. Carman was a treasured family member and devoted worshipper at St. John for many years, said Jeff Axt of Bloomfield Township, a cousin and Parish Council chairman.
"On top of that, she was a symbol of what the Armenian people have endured," he said.
She was born April 7, 1914 in Yozgat, Turkey, and died Saturday, Aug. 6, 2016, with her family by her side.
Mrs. Carman, a former Pontiac resident, was believed to be one of only about 30 survivors worldwide of the event that resulted in the deaths of as many as 2 million people. She was the last remaining genocide survivor in Michigan.
On April 24, 1915, Ottoman Turks rounded up several hundred Armenians who were considered "intellectuals" or people in positions of leadership and later killed them, said Father Aren Jebejian, St. John pastor.
Over the next three years, the Turks, who were mostly Muslim, forced Armenians, who were predominantly Christian, into "death marches" to the Syrian desert. Other Armenians were beaten or tortured, and as many as 1.5 million died, he said. Other ethnic groups that were largely Christian, such as Greeks, were also targeted. When their numbers are added, the total deaths are estimated as high as 2 million, he said.
As her family gathered to celebrate her 102nd birthday last April, Mrs. Carman reflected on stories that relatives told her about the genocide. She was too young to have horrific memories of it, but relatives told her that her father was one of the people whom the government forced to march off one day.
"He turned back," she said, explaining that he wore disguises, changed his name, went into hiding — did whatever was necessary to stay alive. He later reunited with his family but died of kidney disease after just a short time.
Mrs. Carman recalled that even after the genocide "ended" in 1918, there was often different treatment for Armenians, who couldn't ever predict how they would be received.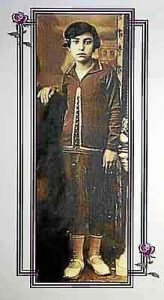 "One day was good, the next day bad," she said.
She remembered that many families carried their belongings with them at all times in case they were forced out of their homes.
With her mother and grandmother, Mrs. Carman relocated from their small village to Istanbul. Her mother worked in a factory and her grandmother worked as a cook. By the time she was 16, both her mother and grandmother became too ill to work and she took responsibility for supporting them.
She worked in a factory and later bought a sewing machine and assembled men's shirts.
In 1960, she came to the United States, marrying Masa Carman a few months after arriving. She taught herself English and was later hired by Hagopian to repair their Oriental rugs. Later, in retirement, she and her husband enjoyed traveling together.
After her husband died in 1995, she traveled to France and Turkey to visit relatives. She visited Turkey again in 2001.
Relatives say she remained fiercely independent, living on her own until she moved to Manoogian Manor retirement center in Livonia about three years ago.
Even though she was the oldest resident, she often looked after the others, making sure they ate properly and took care of themselves.
"She was feisty right up to the end," Axt said.
Axt said she fell and broke her hip about six weeks ago, leading to a series of related health problems.
Mrs. Carman is the sister-in-law of the late Edward Carman, Agnes Carman Hovsepian, Peter Hovsepian, the late Harry Carman, Rosemary Carman and the late Margaret Hatcherian and the late Mardig Hatcherian.
In lieu of flowers, the family suggests donations to St. John Armenian Church, to be used for expenses of those wishing to become deacons or priests.