By Vahe Sarukhanyan & Edik Baghdasaryan
Hetqonline
In 2010, Gourgen and Artyom, the two sons of Armenian Minister of Finance Gagik Khachatryan, purchased a sprawling private house in the affluent Los Angeles neighborhood of Westwood. They paid $11 million for it.
Now, they want to sell it for a cool $35 million.
Readers will note that at the time Gagik Khachatryan was serving as the president of Armenia's State Revenue Committee and controlled the country's tax and customs services.
Given his wealth and power, Khachatryan was nicknamed the 'super minister'. The press in Armenia linked him with a number of companies that, conveniently, were registered under the names of relatives. A partial list includes Ucom, MegaFood, Apeyron, MegaMotors, MegaSport, Chronograph, Galaxy Concern and Chimeg. Gourgen (photo) and Artyom have a stake in some of them. The two young men, along with their wives, are registered as residing at 66 Teryan Street in Yerevan. It's a high-rise apartment building near the HSBC branch opposite the Yeritasardakan Metro station. Compared with their house at 355 South Mapleton Drive in Los Angeles, 66 Teryan can be described as a hovel.
South Mapleton Drive is considered prime real estate. Average people don't live in the spacious houses lining the street, with their numerous bedrooms, baths and tennis courts. In 2014, Variety ran a piece, entitled South Mapleton Drive Houses a Bevy of the Rich and Famous, on the glitzy neighborhood.
"For years, legions of Playboy models and wannabe bunnies were housed in dorm-like conditions in the illustrious "Bunny Hutch," a shabby, ranch-style residence on 1.3 S. Mapleton acres that sold last year for $10 million to the same financier who, back in 2008, shelled out $16 million for the Colonial mansion next door. Hugh Hefner and ex-wife Kimberley Conrad owned another S. Mapleton manse they sold in 2009 for $18 million to one of the sons of billionaire C. Dean Metropoulos, owner of the Pabst Brewing Co."
In 2013, Hollywood legend Gregory Peck's window Veronique sold their seven-bedroom mansion to Google zillionaire Eric Schmidt for $22 million. In January 2014, American TV luminary Ellen DeGeneres bought a stunning, 11,500-square-foot, A. Quincy Jones-designed mansion on 2.25 acres for $39.9 million and lucratively flipped in July to businessman Sean Parker for $55 million. For years, Candy Spelling (widow of TV producer Aaron Spelling) tried for years, and in vain, to sell their 55,000-square-foot house on the street for $150 million. It finally went, in 2011, for a much lower but still sky-high $85 million to Formula One racing heiress Petra Ecclestone Stunt.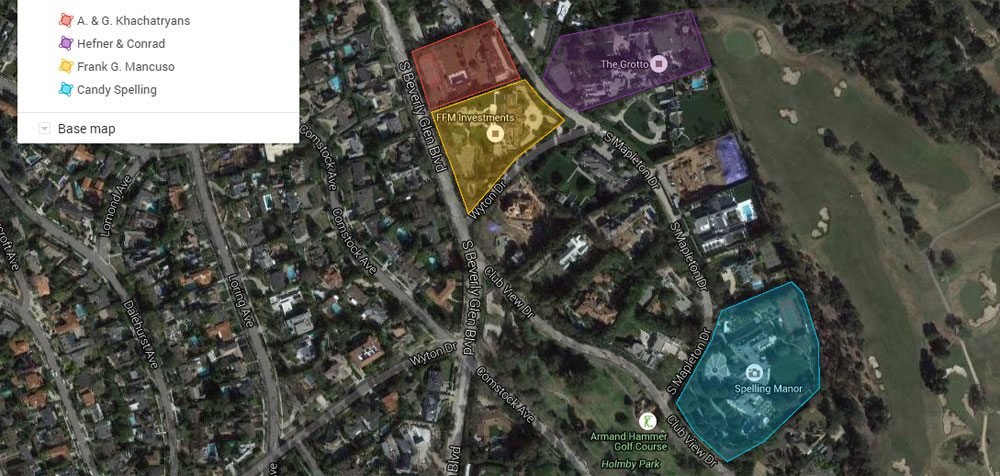 Gourgen and Artyom Khachatryan purchased the private house at 355 S. Mapleton Drive for $11 million on August 6, 2010. The Birndorf family, the former owners, had been asking $12.5.
The house was built in 1939 and redesigned ten years later. The house itself measures 563 square meters and the land, 6,637 square meters.
The two-story house has six bedrooms, five baths, an outside pool, tennis court and yard.
The Khachatryans purchased the mansion through the noted realtor Christophe Choo.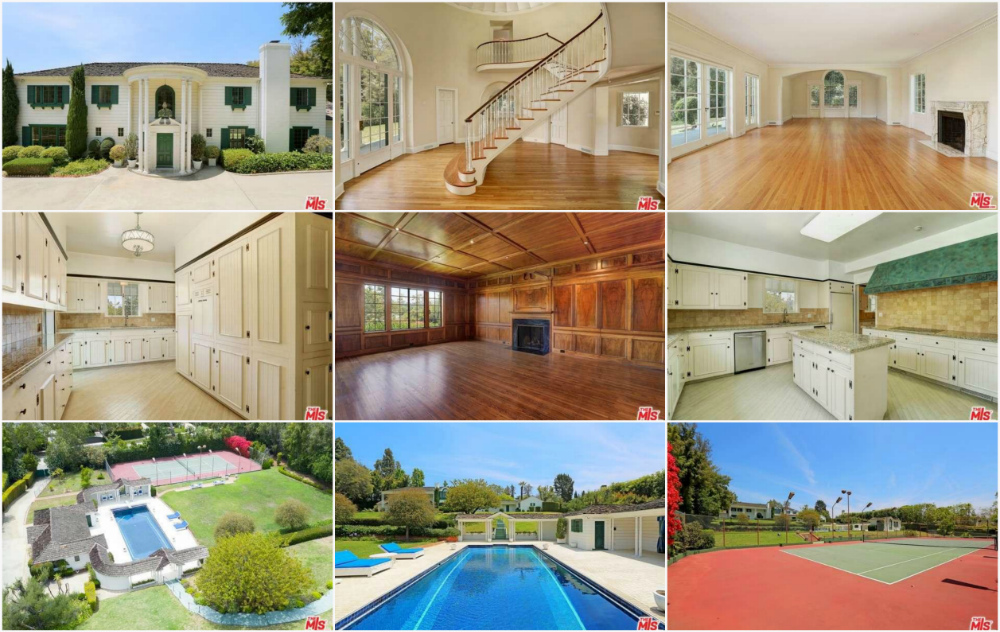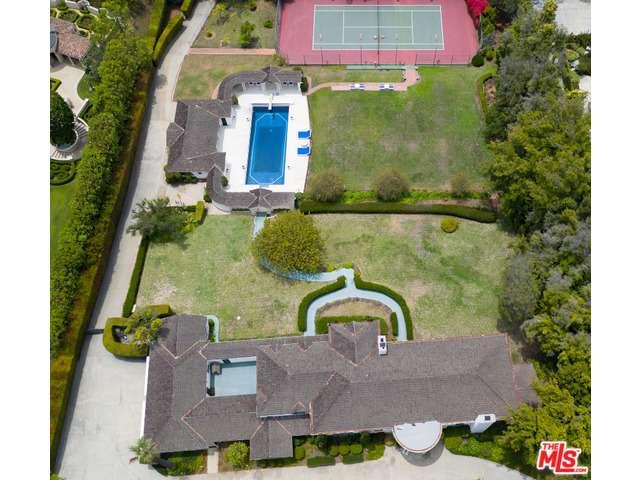 Transfer Transaction
In 2011, Gourgen and Artyom transferred the house over to Abraham Stepanian, who became its trustee. Trusts are often set up to shelter the owners from various taxes and debt obligations.
In fact, the Khachatryans purchased the house in 2010 from the Birndorf Family Trust. A year later, they transferred the house to Stepanian's Veto Trust.
Documents at our disposal do not specify an amount for this transaction, but it is known that it was a quitclaim deed – a legal instrument which is used to transfer interest in real property. (quitclaim deeds are most often used to transfer property between family members, as gifts, placing personal property into a business entity (and vice versa) or in other special or unique circumstances.)
We can infer that the Khachatryans thus handed over the house to Stepanian for him to manage.
Who Is Abraham Stepanian?
It goes without saying that Stepanian is a "trusted" friend of the Khachatryans. He's into real estate and health services. Interestingly, Stepanian is also an agent for Coldwell Banker, just like Christophe Choo.
According to some documents, Stepanian is registered as living in Burbank (918 N. Evergreen St.), while whitepages.com lists his address as 4771 Forman Avenue in L.A.'s Toluca Lake neighborhood. (The latter is the same address listed for Gourgen Khachatryan in whitepages.com).
It's also the address for Veto Trust.
The link between the Khachatryans and Stepanian is also proven by the fact that according to bizstanding.com, Stepanian is the director of a company called Apeyron USA Inc. (The Khachatryan brothers had founded a company with the same name years ago in Los Angeles. It seems to be inactive at the moment but, according to its LinkedIn page, was involved in international trade and development.)
On June 17, the Khachatryans put their Westwood house on the market for $35 million. Christophe Choo is overseeing the sale.
In 2015, the property was appraised at $11.7 million (house-$8.5 million and land $3.2 million)
Gourgen Khachatryan and 530 South Mapleton Drive
On August 5, 2011, Gourgen Khachatryan and Veto Trust purchased a private house at 530 S. Mapleton Drive (photo below) for $14.4 million. The sellers were Robert A. Harabedian, Leslie S. Klinger and Mapleton Trust. The real estate agent was none other than Christophe Choo.
The 1927 house, measuring 594 square meters, sits on a 5,220 square meter lot. In 2015, it was appraised at $15.049 million.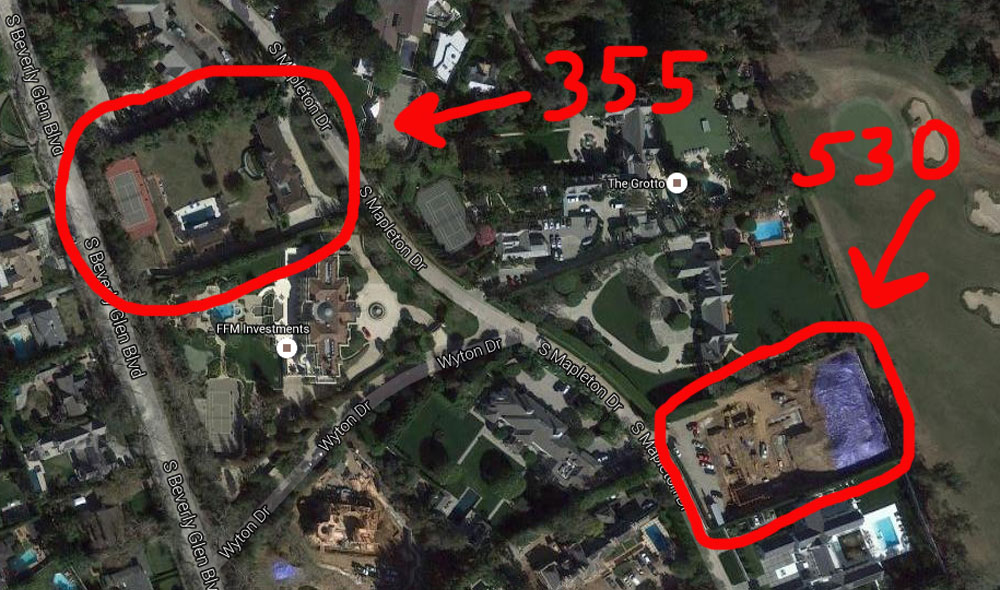 February 2016 satellite images show that the house has been razed to make way for new construction.
On June 13 of this year, Gourgen Khachatryan transferred the land from Veto trust to Wrh Ltd., also registered at Toluca Lake. The documents show that the transaction was in the form of a deed of trust. (In California, this corresponds to a mortgage transaction).
Top photo: House at 355 S. Mapleton Drive and Gourgen Khachatryan (Khachatryan's photo from wnews.am)