BERLIN — Germany's parliament overwhelmingly passed on Thursday a resolution recognizing the 1915 massacres of some 1.5 million Armenians in the Ottoman Empire as genocide.
"With one vote against and one abstention, this resolution has been passed by a remarkable majority of the German Bundestag," Norbert Lammert, the speaker of the German lower house of parliament, declared after the vote, according to Reuters.
The resolution, titled "Remembrance and commemoration of the genocide of Armenians and other Christian minorities in 1915 and 1916", was drafted by lawmakers representing the main parliamentary factions, including Chancellor Angela Merkel's Christian Democratic Union (CDU). It says the Armenians' fate exemplified "the history of mass exterminations, ethnic cleansing, deportations and yes, genocide, which marked the 20th century in such a terrible way."
It also acknowledges that the German Empire, then a military ally of the Ottomans, did nothing to stop the killings.
"That we were complicit in this terrible crime does not mean that today we will be complicit in denying it," said Cem Ozdemir, the ethnic Turkish leader of the opposition Green Party and a stronger backer of Armenian genocide recognition.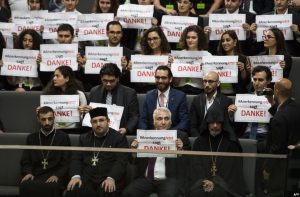 "Only those who recognize the past can take part in shaping the future," Deutsche Welle quoted Franz Josef Jung, a former German defense minister and a senior CDU lawmaker, as saying. "We want this resolution to revive the process of reconciliation [between Turkey and Armenia]."
Gregor Gysi, a politician from The Left Party, who was critical of Turkey's treatment of the Kurds who were doing an excellent job in fighting Islamic State, said that "Germany was a historical accessory" and has a duty to recognize the mass killings of Armenians in the First World War.
"We need to call this what it was – a genocide," he told the parliament. "The Bunderstag should not allow itself to be blackmailed by Turkey's threats."
According to the Christian Democratic Union' Albert Weiler, Germany had a "historical duty" to recognize the mass killings of Armenians.
"Without this admission there cannot be forgiveness and reconciliation. Suffering does not know temporary boundaries. Genocide will never remain in the past. By recognizing the genocide, it will force the Turkish government to take a brave step and look into its own history," he said.
Although Merkel did not take part in the vote, she did back the genocide resolution in an internal party straw poll earlier this week. "She told me this morning that she sides with her parliamentary group," a spokeswoman for the chancellor reportedly said on Wednesday.