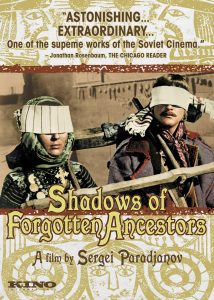 GLENDALE – Abril Bookstore's Armenian Film Society will present a screening of Sergei Parajanov's classic film Shadows of Forgotten Ancestors on Friday, June 3, 2016 at 7:30pm at Abril Bookstore – 415 E. Broadway, Glendale, CA. Admission is free.
Shadows of Our Forgotten Ancestors stunned world audiences in 1964. It is popularly known as the Romeo and Juliet of the Carpathians. The film is set among the Hutsul people of the Western Ukraine, an isolated ethnic group who live in the upper reaches of the mountain range. Their lives take place within a harsh environment and an ornate cultural system little changed since the 18th century.
Sergei Parajanov was born in Georgia to Armenian parents. After studying film and music, Parajanov became an assistant director at the Dovzhenko studios in Kiev. In 1964 he made Shadows of Forgotten Ancestors. He followed this up with the even more innovative The Color of Pomegranates (1969) which explored the art and poetry of his native Armenia in a series of stunningly beautiful tableaux, but by this stage the authorities had had enough, and Paradjanov spent most of the 1970s in prison on charges of "homosexuality and illegal trafficking in religious icons". However, with the coming of perestroika, he was able to make two further films before succumbing to cancer in 1990.
Presented by The Armenian Film Foundation and Abril Bookstore.