As the Nagorno-Karabakh Army launched a counteroffensive on Sunday regaining strategic high ground, heavy fighting raged for a second day between Azerbaijani and Armenian forces. Yet the counteroffensive gave reporters an opportunity to examine the region and report on atrocities the Azeri Army has committed in addition to the documented continuous shelling of border villages targeting civilians within the Nagorno-Karabakh, which has caused the death of 12 year old Vaghinak Grigoryan, who was killed playing in his school courtyard, and seven civilians, among whom were Darbas Mayor M. Mirzoyan and Akhtala Mayor A. Beglaryan, who were killed when a civilian bus was targeted by an Azeri missile.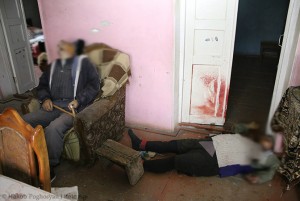 Hetq.am photographer Hakob Poghosyan reports from Talish, a few kilometers inside the Nagorno-Karabakh border with Azerbaijan, which was temporarily overrun by Azerbaijani military units on Saturday. A few residents had remained in town when Azerbaijani soldiers entered the town and executed an elderly couple; Valera Khalapyan and his wife Razmela, in their home and then cut off their ears. Azerbaijani soldiers also executed a 92 year old Marousya Khalapyan.
Reports are also coming in from Armenia's Ezidi community that a 20-year-old Ezidi soldier, Karam Sloyan, from Armenia who was among the casualties was apparently beheaded. Pictures of Azerbaijani soldiers posing with Sloyan´s decapitated head surfaced on VKontakte, a popular social network in Eastern Europe.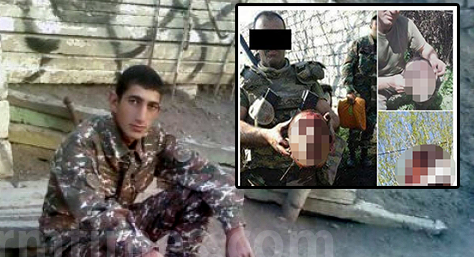 Soon after, an ISIS-like video emerged on the internet, showing Azerbaijanis holding the severed head of Sloyan like a trophy fish. As many Ezidis have taken refuge in Armenia and Nagorno-Karabakh to escape ISIS in Iraq, such barbarism brings back horrible memories of atrocities the Ezidi community of Iraq faced at the hands of ISIS terrorists.