By Hasmik Harutunyan
Free-lance reporter
Philharmonia Orchestra and Philharmonia Voices under the baton of renowned Norwegian conductor Salonen gave a recital dedicated to great Norwegian composer Edvard Grieg (1843 -1907) at Royal Festival Hall in London on the 26th November 2016. Armenian soprano Anush Hovhannisyan performed in the role of Anitra in extracts from Peer Gynt by the composer. The Guardian reported that "Anush Hovhannisyan made a superbly impudent Anitra". Meanwhile Richard Fairman of FT stated that "Marita Sølberg and Anush Hovhannisyan were the pure-voiced sopranos. Salonen and the Philharmonia Orchestra helped to conjure Grieg's magic of the theatre".
This all-Grieg concert showcased a performance of Grieg's Piano Concerto in A-minor, that marked the start of Grieg's dazzling career and fame throughout Europe. Legendary Chinese pianist Lang Lang performed masterfully Grieg's only piano concerto, however the sound of this heroic concerto was somehow understated right from the beginning, which was good news for the performers after the interval, as Lang Lang could have easily outperformed any artist with his characteristic exuberance and virtuosity.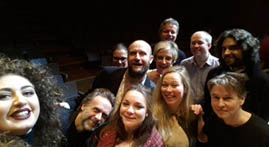 In the second half of the evening Norwegian director Juha Hemanus had staged an original mixture of theatrical performance and operatic excerpts from Grieg's Incidental Music inspired by Norwegian playwright Henrik Ibsen's drama Peer Gynt. English actor Sam Bond played the role of the anti-hero Peer Gynt – a wonderer, dreamer, womanizer and by conventional standards an utter failure. He is selfish, lethargic and self-centered, yet it is exactly how the great dramatist wanted to portray Peer Gynt: a real person. Charismatic young violinist Gjermund Larsen with his fiddle boosted the dramatic interludes with heart-warming folk tunes.
The two singing female parts were shared between Norwegian soprano Marita Sølberg in the role of Solveig and Armenian soprano Anush Hovhannisyan in the role of exotic Anitra, one of the foreign conquests of Peer Gynt. Her performance in the role of Anitra, a young and beautiful Moroccan girl enhanced the operatic sections, especially her joyful performance of Anitra's dance. Dressed for the occasion in a traditional Armenian folk garment and head cover (rather than Arabian costume), Anush excelled not only by her vocal ability, velvety timbre of her voice, but also her enthralling acting skills. Anush Hovhannisyan convinced the critics and the public in equal manner that she was a truly multi-talented and all-around artist: exceptional vocalist and captivating actress.
I caught up with Anush after the evening performance at Soutbank Centre to share her thoughts on the event.
Question: What are your feelings after performing in such an interesting project alongside world famous Lang Lang and the Philharmonia conductor Salonen?
Anush Hovhannisyan: There has been a great atmosphere at the rehearsals. Everyone working on Peer Gynt was realizing that it is going to be a big shift of energy at the concert when we get to perform after Lang Lang. We worked twice as hard to provide the best experience for the audience. On the other hand, I was enjoying hugely working with Maestro Salonen for the first time. I had worked with the Philharmonia Orchestra earlier this year and was looking forward to meet the Maestro. It was a wonderful experience to share the stage with such a fascinating artist. He managed to get a very special sound out from the orchestra and this is what excites me in classical music!"
Q: 2015 has almost come to end, what were the highlights in the year for you as an artist and performer?
AH: 2015 was a wonderful year, full of hard work and great results. I completed my young artist's contract at the Royal Opera House at Covent Garden, and joined the Royal Opera House's highly anticipated tour in Japan with star cast. I also made my Italian debut at the season opening production of Don Giovanni in Lyric Theatre of Trieste. Very grateful for the opportunities I got and all wonderful friends I found this year. "
Q: You have won several prestigious international competitions in the past, how did they help you in your career so far? Are you planning any more competitions in the future?
AH: The results of the competitions for me has been partly a payback for the hard work and preparation, partly a luck. Competitions are a good tool for young artists to expose themselves to the market. For me being in competitions is a chance to meet people and make contacts. I never hope for a prize because the decision depends on the subjective taste of a small group of people, however I am happy with the results so far.
I am not very keen to take part in competitions because I never feel in competition with any other singer in the world. I have things to offer that are absolutely unique and it is the same for every other singer in the competition. It is very tiring both physically and emotionally to be in a competition because of the atmosphere is highly artificial. However, I cannot underestimate the importance of the exposure at the early stages of musical career so I will make effort for couple of more times."
Q: What are your projects for 2016 and beyond, what would you like to be performing and where?
AH: I have a busy year coming up with lots of new repertoire to learn and prepare for the future projects. In the first half of the season I will be travelling and performing. After the Christmas I am working on recording of new CD projects. The news will follow soon."
We would like to congratulate Anush Hovhannisyan once again for her musical achievements in 2015 and wish her utmost success in her conquest of opera stages worldwide with roles that she is passionate about. The news of her upcoming concerts will be available on her website: http://www.anushhovhannisyan.co.uk/