BAKU (RFE/RL) — Azerbaijan's government-linked Shi'ite Muslim leader has suggested that Armenia was behind violence in a traditional Shi'ite stronghold near Baku which left two police officers and five alleged Islamists dead last week.
Azerbaijani interior troops and other police units raided the village of Nardaran on Tuesday in a sweeping security operation which they said is aimed at "protecting citizens' legal rights and freedoms" and confiscating weapons and explosives from "criminals." The operation came just days after a deadly clash between police and local supporters of Taleh Bagirzade, the Iranian-educated leader of a group called the Movement for Muslim Unity.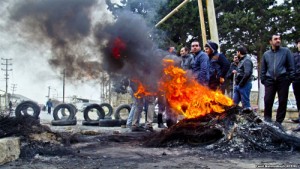 Bagirzade, who is highly critical of Azerbaijan's leadership, and at least 13 other men were arrested during the clash for allegedly plotting religiously motivated "terrorist acts and mass disturbances." The November 26 arrests prompted hundreds of angry Nardaran residents to take to the streets and build barricades.
Some pro-government Azerbaijani politicians and media accused Iran of fomenting the unrest in one of Azerbaijan's most conservative communities. But Sheikh-ul-Islam Allahshukur Pashazade, the head of the Baku-based Caucasus Board of Muslims, pointed the finger at Armenia when he spoke to journalists on Thursday.
"The roots of the events in Nardaran lie abroad," Pashazade said, according to the APA news agency. "By that many mean neighboring states. But neither Turkey nor Iran support disturbances in Azerbaijan."
Azerbaijan's number one enemy, Pashazade went on, is Armenia. "They may also want to organize disturbances here," he claimed. "The tattoos on the bodies of arrested individuals are symbols of the Armenians."
The clergyman, who is a staunch backer of Azerbaijan's ruling family, did not elaborate on the tattoos. The Azerbaijani government has not echoed his allegations that are certain to be laughed off by Yerevan.
Nardaran has long been seen as a bastion of Iranian-influenced fundamentalists in Azerbaijan. Many women in the village wear the full Islamic veil and girls wear the hijab, or head scarf, to school despite a national ban. Local residents have repeatedly burned U.S., Israeli and Armenian flags during anti-Western demonstrations staged in recent years.