YEREVAN (Armradio, Armenpress) — Turkish author Pinar Selek's book titled "Because they are Armenian" has been published in Armenian. The book reflects the author's stance on the Armenian Genocide and the approaches of the Turkish public.
The French translation of the book was released in Strasburg in February.
"In the book I have written what it means to be Armenian in Turkey," she told a press conference in Yerevan today.
In 1998 Pinar Selek was prosecuted in connection with an explosion that occurred at the Spice Bazaar, but was acquitted by the Istanbul High Criminal Court 16 years later. She had to move to France because of persecutions in Turkey.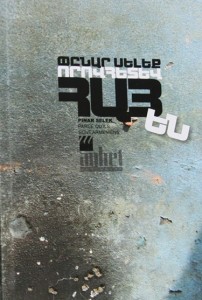 The author said she faced the 1915 massacre of Armenians too late. "There can be nothing more precious than the struggle for truth," Selek said.
When writing the book she was inspired by her late friends, who lived in Turkey. "They can't speak today, and I'm speaking for them."
"I have problems with justice, and I'm struggling for my own justice. That's why I know how important every testimony is for achieving justice," the author said.
"Believe me, I'm not alone. I'm a representative of a whole generation, which questions many truths we have been taught in Turkey," Selek added.
When introducing the book, the author emphasized that it questioned the education system of Turkey, the street names, and the dark black spot that existed in people's conscience which she also had but tried to escape it.
The Book tells about how Pinar Selek lived in denial. She was not born in a family of nationalists, and her family members had opposition views, her father was imprisoned, grandfather was also an oppositionist and despite all of this she did not understand the issue of genocide.
"It is the 100th anniversary of the Armenian Genocide this year, and this is an important issue in terms of public awareness. I did not have hopes that the 100th anniversary would lead to justice and thus I wanted to support struggle for justice with this book. As I also have problems connected with justice and I struggle for it, I know how important even small testimonies are," she pointed out.