STEPANAKERT (RFE/RL) —  A team of U.S., Russian and French mediators reportedly came under fire on Tuesday as it crossed into Azerbaijani-controlled territory from Nagorno-Karabakh through a "line of contact" that has seen growing ceasefire violations in recent years.
The three co-chairs of the OSCE Minsk Group crossed the heavily fortified frontline around Karabakh while monitoring the ceasefire regime there together with field representatives of the Organization for Security and Cooperation in Europe. They held talks with Karabakh authorities in Stepanakert earlier in the day.
"During our Line of Contact crossing, repeated gunfire forced OSCE monitors to take cover. This is unacceptable," James Warlick, the group's U.S. co-chair, wrote on his Twitter page. He did not specify where the gunfire came from or give other details.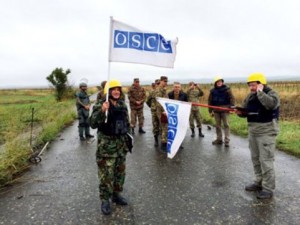 Warlick also posted photographs of the mediators wearing protective helmets and flak jackets escorted by Karabakh Armenian army officers in no man's land just northeast of Karabakh.
The authorities in Stepanakert confirmed the shooting and blamed it on Azerbaijani forces. "At the end of the monitoring there was automatic gunfire from the Azerbaijani side," read a statement released by the foreign ministry of the self-proclaimed Nagorno-Karabakh Republic (NKR).
The Azerbaijani Defense Ministry claimed the opposite, however. In a statement cited by the Trend news agency, it said that the Armenian side opened fire on its troops stationed at the site of the mediators' crossing.