GLENDALE — Throughout the centennial of the Armenian Genocide, organizations across the world have been commemorating this painful tragedy in the Armenian history, each according to its mission and assumed role in the community. The Armenian American Mental Health Association (AAMHA) of the Los Angeles area is proud to offer a conference titled: "Trans-generational Trauma Following the Armenian Genocide: Developmental Perspective, Catharsis, Healing and Empowerment. This conference will convene on November 14, 2015, 10 am – 4:00 pm at Glendale Community College, in the Mainstage Theatre/Auditorium.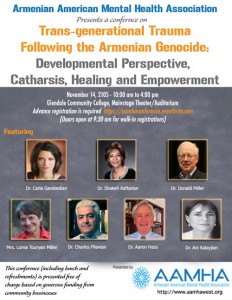 AAMHA is offering this free conference as a token of its dynamic involvement with the Armenian community and according to its mission, which includes informed reflections on the psychological aspects of issues that impact the community. Speakers, who are experts in their respective areas of presentation, will reflect on psychological aspects of the trauma suffered by the survivors of the Genocide, as well as the following three generations. They will share their perspectives on the nature and depth of this vicarious trans-generational trauma, and the phases of collective responses across generations. Drawing on lessons learned from the Rwandan and Jewish experiences, speakers will focus on the importance of healing and empowerment despite Turkish government's denial of this well-documented genocide.
The conference organizers intend to make this the first of many public dialogues toward healing and empowerment. The audience will be encouraged to actively participate in the discussion segment of this conference.
Participation to this free conference is based on prior registration at https://aamhaconference.eventbrite.com
website: www.aamhawest.org