New findings from NASA's Mars Reconnaissance Orbiter (MRO) provide the strongest evidence yet that liquid water flows intermittently on present-day Mars, according to NASA's official website.
Using an imaging spectrometer on MRO, researchers detected signatures of hydrated minerals on slopes where mysterious streaks are seen on the Red Planet. These darkish streaks appear to ebb and flow over time. They darken and appear to flow down steep slopes during warm seasons, and then fade in cooler seasons. They appear in several locations on Mars when temperatures are above minus 10 degrees Fahrenheit (minus 23 Celsius), and disappear at colder times.
These downhill flows, known as recurring slope lineae (RSL), often have been described as possibly related to liquid water. The new findings of hydrated salts on the slopes point to what that relationship may be to these dark features. The hydrated salts would lower the freezing point of a liquid brine, just as salt on roads here on Earth causes ice and snow to melt more rapidly. Scientists say it's likely a shallow subsurface flow, with enough water wicking to the surface to explain the darkening.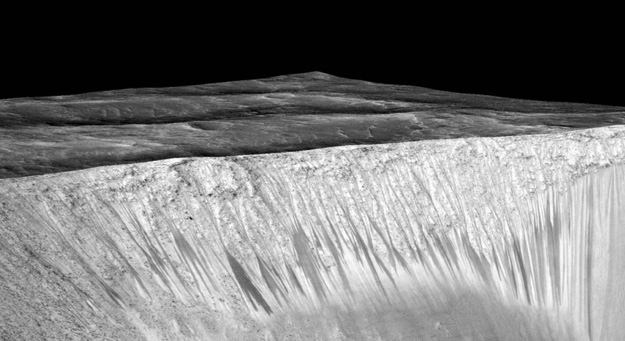 The spectrometer observations show signatures of hydrated salts at multiple RSL locations, but only when the dark features were relatively wide. When the researchers looked at the same locations and RSL weren't as extensive, they detected no hydrated salt.
Perchlorates have previously been seen on Mars. NASA's Phoenix lander and Curiosity rover both found them in the planet's soil, and some scientists believe that the Viking missions in the 1970s measured signatures of these salts. However, this study of RSL detected perchlorates, now in hydrated form, in different areas than those explored by the landers. This also is the first time perchlorates have been identified from orbit.
The discovery is the latest of many breakthroughs by NASA's Mars missions.