Haigazian University would not be here today without the outstanding leadership it has had over the last 60 years. Two such passionate visionaries were Dr. John Markarian and Wilma Cholakian.
It was a memorable day in 1955 when John Markarian, a young tenured Religion Professor at La Fayette College in Pennsylvania, relinquished that position by accepting the invitation to serve as Founding President of Haigazian College. History proved the decision
Mr. Stephen Mehagian and his wife Mary, of Phoenix, Arizona, were the first to dream of the possibility of a college in Lebanon. Mary was the daughter of Dr. Armenag Haigazian, the martyred Headmaster of The Jenanyan Apostolic Institute of Konia, Turkey. The Mehagians met with Mr. & Mrs. Stephen Philibosian of Philadelphia. They shared a vision for a college in Lebanon —Haigazian College.
Arriving in Beirut with his late wife Ruth and young daughter Joanne, the Markarians found themselves in a new environment. With a faculty and staff of twelve, and 50 students, a small family was formed. Both President and student were eager to embark on their new venture, facing many challenges together. Fortunately, benefactors quickly recognized and addressed these needs for a school in the Middle East. Dr. Markarian's first term as President lasted until June 1966.The expanded campus now includes the campus icon— The Mugar Building —complemented with the Aharonian, Philibosian, Heritage, and Mehagian Buildings.
Civil War raged in Beirut for the next ten years of Markarian's Presidency—1972-1982. Yet, this erudite pastor and educator provided a haven for students at Haigazian—even as bombs were falling and chaos reigned. Markarian, and his courageous wife Inge, developed the strategy of loving the enemy with food and drink–not hostility. Their inspiration: Romans 12:20: "If your enemies are hungry, feed them; if they are thirsty, give them something to drink; for by doing this you will heap burning coals on their head." They fought the war from their dining room, not in the streets. They opened their doors to all—resurrecting, in this one institution, those colleges long lost in Turkey by the Genocide.
With a student body representing students from various religious and political leanings, Markarian's unique form of diplomacy and understanding of students and various political factions, was legendary. Haigazian, with a current student body of 950, is now one of the leading universities in the Middle East, and the only Armenian University in the Diaspora. Formerly quoting: "No qualified Armenian student is ever denied entrance," unfortunately no longer holds true. Many Armenian students, some refugees, do not even apply because the $8,500 tuition is beyond their realm of possibility— reasons for raising critical funds for the continued mission of Haigazian's remarkable vision.
Markarian's experiences and influence over the years at Haigazian could fill a book—which they do in his memoir, "Thirsty Enemy," a testimony to his principle of "overcoming evil with good." He is now 98 years old, and lives with his lovely wife Inge in West Pittston, Pennsylvania. His life-long passion for tennis and golf have subsided. His memories of Haigazian and wonderful friendships made along the way are always present. One need only speak to him on the phone to hear his still-vibrant voice— recalling his wonderful, challenge-filled years at the University.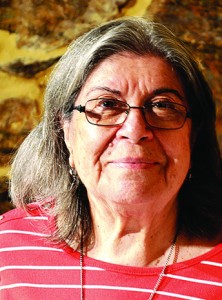 After Markarian's final retirement, the University was left without a shepherd. However during these crucial war years, Wilma Cholakian, Administrative Dean, became the quintessential hero of Haigazian University. She was absolutely fearless during the time of Lebanon's Civil War. Always in harm's way, Wilma served Haigazian University as the intrepid Administrative Dean from 1985 to 1995. In these ten years, she accomplished an amazing feat—moving the war-beleaguered University to Christian East Beirut. She accomplished all this, while at the same time maintaining a high level of Academics in
Among many of her heroic efforts, Wilma boldly secured the safety of Haigazian priceless Armenian Library. Prior to her role as Administrative Dean, Wilma served as Haigazian Registrar and Academic Dean. Her unwavering strength, energy, and will upheld her student body throughout their college experience. Indeed, Miss Cholakian was the quintessence of Haigazian and will always be remembered with the greatest of admiration.
The October 3rd 60th Anniversary Gala Celebration will be the launch of a $6,000,000 endowment fund expansion campaign for Haigazian University. Celebrations will continue after the performance with a Black Tie Gala Supper in the stunning Grand Hall of t
For Ticket information call 1-844-809-4860 or visit the website www.haigazian.org