LOS ANGELES – Armenia Fund U.S. Western Region has announced a special partnership with Glendale Adventist Medical Center (GAMC) with the aim of upgrading the public health services of the northern part of the Tavush Region in the Republic of Armenia.
In partnership with Armenia Fund, the joint effort focuses on establishing a sister hospital relationship between Glendale Adventist Medical Center and the Noyemberyan Hospital. The purpose is to bring the two hospitals together with the aim of boosting Armenia's rural medical care.
The project will entail a series of medical missions with American doctors from GAMC providing advanced care and surgical interventions in Noyemberyan. In addition, GAMC will provide continuing medical education, equipment, supplies and pharmaceuticals to the hospital and its doctors. Plans are already underway in linking the two hospitals with state-of-the-art telemedicine equipment – allowing for Noyemberyan doctors and staff to consult with leading specialists at Glendale Adventist Medical Center.
The Noyemberyan Hospital was completely refurbished by Armenia Fund in 2010 and continues to provide critically needed medical care for Noyemberyan and the surrounding 30 villages in the region. Located 3 miles from the border, the hospital has 60 beds with 30 doctors and 160 nurses and support staff.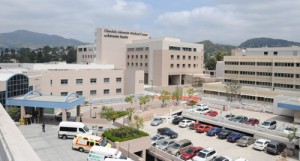 In May 2015, Kevin Roberts, President/CEO of Glendale Adventist Medical Center, Dr. Arby Nahapetian, Vice President of Medical Affairs & Quality and Dr. Simon Keushkerian, immediate past Chief of Staff, visited the Noyemberyan Hospital on a joint assessment visit with Armenia Fund. During their first visit the team had the opportunity to carry out a needs assessment and closely bonded with the medical professionals of the hospital – all with the purpose of jointly improving medical care for the thousands of residents living in Armenia's rural borderline communities.
At the very moment, the teams are working on the first medical mission for the fall of 2015.
"I was personally overjoyed and blessed by the Armenian people, the culture and the country. We arrived in the blush of spring time so the wildflowers were blooming and everything was green. I will never forget the hospitality and the warmth. As a Christian, I was inspired by learning the determination of the Armenian people over the centuries. The zeal to uphold Christ, even under the most drastic and persistent persecution, strengthened my faith", stated Kevin Roberts, upon his return from Armenia.
"We are wholeheartedly thankful to Glendale Adventist Medical Center for choosing to partner with Armenia Fund on this important mission. With God's blessing, without any doubt, this partnership will translate to a more healthy, vibrant Tavush", stated Antranik Baghdassarian, President of Armenia Fund U.S. Western Region.