YEREVAN — Vahe Tilbian is the third confirmed member of the band Genealogy, representing Armenia in the 2015 Eurovision Song Contest with "Don't Deny". Born and raised in Ethiopia, he will represent the continent of Africa in the project.
During the past week, Essaï Altounian and Tamar Kaprelian have already been announced as members of the group Genealogy, representing Armenia in the 2015 Eurovision Song Contest. Today their are officially joined by Vahe Tilbian.
Vahe Tilbian is an Armenian-Ethiopian artist with an enthusiastic and bright character. He has a unique style: from rock to techno, from reggae to R&B, from Armenian to Ethiopian, and all that mixed with a lot of Latin music. This blend of cultures expresses Vahe's personality and makes him stand out as an exclusive artist and a passionate dancer.
"I am extremely honored, humbled and ecstatic to let you all know that I will be one of 6 artists to represent Armenia at the Eurovision song contest this year in Vienna, Austria.
I know you will all continue to support and encourage me along this bridge building journey of 6 destinies with 1 story. Peace, Love and Music to you all". Vahe Tilbian stated.
Armenian Public TV Company has announced earlier that Genealogy will be uniting the new generation of Armenians spread through 5 continents (Europe, Asia, America, Africa, and Australia) around the world in the year of 1915. The group consists of 6 artists with Armenian origin – 6 destinies with 1 story.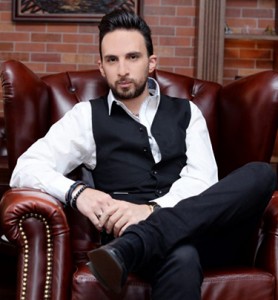 An Armenian Artist from Africa
While Vahe was born and raised in Ethiopia both his parents are of Armenian origin. Vahe heard the call of the stage as a singer only after he graduated from University of British Columbia in Vancouver. After working in the business sector for over three years as a young college graduate, Vahe left his job in 2008 and st
He joined the band Z Beyaynetus and soon, Kenny Allen, performer and producer from DC residing in Ethiopia, heard him at one of the local bars and asked to sing backing vocals for his album release show with the 251 Band. Shortly afterwards Vahe decided to diversify his genre and repertoire joining a salsa band called Eshee Havana and worked on original remixes of Ethiopian songs into salsa music. In 2011 he reached the final auditions of Big Brother Africa.
Vahe wrote the lyrics to his first song called "Life Or Something Like It" in 2010. This gave him the enthusiasm and courage to write more songs. In November 2012 Vahe released his first album titled Mixology. In May of 2013 Vahe released "Yene Tizita", a new rendition of the an old Ethiopian style of song.
For two years now Vahe has been the lead singer of the Zemen Band as well as a columnist at Zoma Magazine published in Addis Ababa. He is fluent in Armenian, English, Amharic, Italian and French.