Memorial Services Held for Avetisian Family
GYUMRI — The Russian soldier who has confessed to the deadly shooting spree in Gyumri will go on trial in Armenia, Prosecutor-General Gevorg Kostanian insisted late on Wednesday after angry protests against the Armenian authorities' failure to have custody of the suspect.
"I can assure you that the criminal will be prosecuted in the territory of the Republic of Armenia and we all will be able to monitor the entire process of justice," Kostanian told reporters after an emergency meeting with President Serzh Sarkisian.
"You will witness tomorrow robust actions in that direction by Armenia's law-enforcement bodies, which I think will make it clear to everyone that Armenia will steadfastly administer the entire process of holding accountable any individual who has committed a crime against a citizen of Armenia," he said.
Kostanian added that he will travel to Gyumri on Thursday morning to repeat these assurances to local residents outraged by Monday's killing of six members of a local family. But he did not clarify whether the Russian soldier accused of carrying out the massacre, Valery Permyakov, will remain in Russian military custody until his trial.
Memorial service for the slain family from Gyumri was held in Surb Nshan church of the city. The six member of the family will be laid to eternal rest on January 15.
Many wreaths from officials, organizations, MPs, as well as numerous people were placed in the churchyard, the Armenian News-NEWS.am reports.
"They were a good, hard-working family," neighbors and relatives said of the Avetisian family, victims of murder Monday in their home at 188 Myasnikyan Street in Gyumri.
Seryozha Avetisian, 53, his wife Hasmik, 55, daughter Aida, 35, son Armen, 33, daughter-in-law Araksya, 24, and three-year-old granddaughter Hasmik, were found killed, and a six-month-old infant with severe stab wounds, were found hours after the incident, when a relative-neighbor came to the house for morning coffee.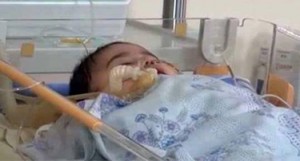 Meanwhile, the Department of Information and Public Relations of the Ministry of Health said that the condition of the only remaining member of the family, six-month-old Seryozha Avetisyan remains in grave but stable condition.
The infant was transferred from Gyumri Austrian Child Clinic to Yerevan St. Holy Mother Medical Center on Tuesday morning.