FRESNO — The Fresno Art Museum will present "Tradition, Legacy, Culture", an exhibit featuring works by Armenian artists to commemorate the 100th anniversary of the Armenian Genocide. The show will open January 23 with a reception at 5:30 p.m. and continues through April 26. Admission to the opening reception is $10 for non-museum members and free for members; admission during normal museum hours is $5 for non-members and free for members.
With pieces on loan from various art galleries and personal collections throughout the country, the exhibition includes the works of John Altoon, Varujan Boghasian, Ara Dolarian, Charles Garabedian, Arshile Gorky, Khachik Khachatouryan, Ed Marouk, Rueben Nakian, Varaz Samuelian, William Saroyan, and Arminee Shishmanian.
"Each of these artists has achieved international and regional renown," remarked museum coordinator Carol Tikijian. "Each experienced the Armenian Genocide on some level and each remained unstoppable in their drive to create, leaving the world richer in its understanding of the complexities of life through their art."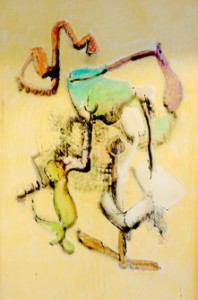 While many will immediately recognize color and forms of Gorky as well as the works of those artists with a local connection—including Dolarian, Marouk, Samuelian, Shishmanian and, of course, Saroyan—it is the discovery of newer and less-familiar personalities that promises to be equally compelling for visitors to this historic exhibit. Additionally, the 11 artists encompass a wide range of media and style—from the surrealism of Boghosian's assemblages to the classic imagery of Garabedian's bold paintings to the contemporary expressions of Khachatouryan's bronze and stainless steel sculptures.
The art exhibit is part of a series of activities promoted by the Armenian Genocide Centennial—Fresno Committee, which includes representatives from the religious, educational, social, and political organizations of the Central Valley. The group's goals are to commemorate the 1.5 million martyrs who perished at the hands of the Ottoman Turkish Government; to educate others about the Armenian Genocide and historical injustice; and to inspire people to overcome adversity through the story of the survivors' of the Armenian Genocide. For more information, visit the AGC—Fresno Committee's website at www.agcfresno.org and on Facebook at www.facebook.com/agcfresno.
Event Contact: Fresno Art Museum, http://www.fresnoartmuseum.org, 559-441-4221.