YEREVAN — The Armenian State Pedagogical University on Friday hosted the international conference "Chess in Schools" to raise the importance of the teaching the intellectual game in secondary educational institutions.
The event brought together 180 participants of whom 50 were guests from 30 foreign countries.
In his address to the participants, the Armenian Chess Federation's deputy president, Smbat Lputian, spoke of the positive effects of chess on the younger generation. He described the game as a good way of developing a fair thinking in a child.
"By playing chess, a child begins making decisions independently and deciding on moves, whereas very often, children below 15 [wait] for parents to tell them what to do. Children playing chess are able to make decisions on their own. By playing chess, a child learns to win fairly and lose fairly. He knows what it is to be defeated, and it it very important as a human move that they squeeze hands at the end to show respect for one another," he said.
Lputian added that the analytical thinking, which a child develops thanks to chess, helps them maximum avoid mistakes in life.
Armenian Minister of Education and Science Armen Ashotyan, President of the International Chess Federation (FIDE) Kirsan Ilyumzhinov also offered speeches at the conference.
The speakers said the conference provides a wonderful opportunity to exchange experience and noted that it will help boost further development of chess, and contribute to the raise of its rile and importance in the educational system.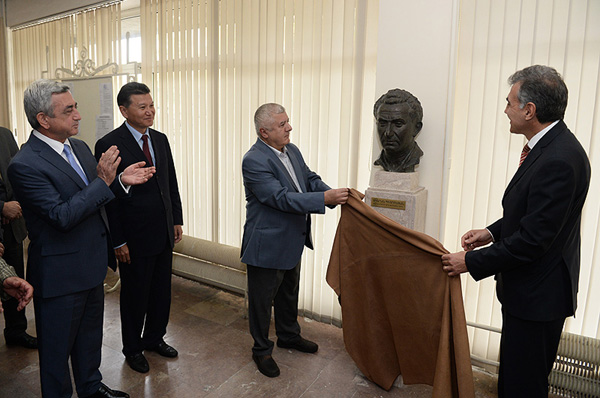 President Serzh Sarkisian, President of the Armenian Chess Federation, attended the opening of the international conference and participanted in the opening of Double World Chess Champion Tigran Petrosian's sculpture at the Chess House bearing his name. The sculpture, created by the eminent sculptor Ara Sargsian in 1965 on the occasion of Tigran Petrosian's chess triumph, has been kept by the sculpture's relatives in his house-museum for more than half a century. Ara Sargsian's family has decided to donate it to the Chess House on the occasion of the 85th anniversary of Tigran Petrosian's birthday.