PASADENA — In one particular scene of "Where Is Your Groom? (Pesad Oor Eh)," the matriarch of the Keshishian family tells her daughter she needs to marry an Armenian, "for the sake of our humanity!" While the words, layered with sweet guilt, seem dramatic, it's a familiar phrase that has floated around many Armenian homes in the Diaspora, prompting parents to ask their daughter – where is your groom?
The cast of "Where Is Your Groom? (Pesad Oor Eh)" is ready to bring their comedic spin to this commonly heard question to South Pasadena High School on Sunday, May 18, 2014 at 4 p.m.
Throughout this culturally relevant play, the American born daughter of Armenian parents finds herself set up on dates with everyone ranging from a childhood friend from Hye Tbrotz to the priest's relative to someone Medz Mayrig found on Facebook— all in a parents' vain attempt for their daughter, Lara, to marry an Armenian, blissfully unaware of their daughter's thoughts and preferences.
"The characters are archetypes of the overbearing, loving, irrational, complicated, and human Armenians we all know and love," said Raffi Wartanian, an actor and musician who is a graduate student at Columbia University's School of International and Public Affairs.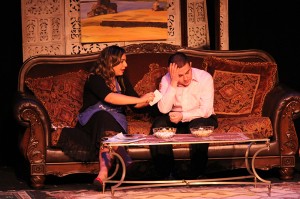 Written and directed by Taleen Babayan, the play's storyline has resonated with thousands of audience members who have connected with the endearing characters.
"You have the arrogant hot shot young guy whose cologne use might only be matched by the size of his ego. You have the parents convinced that cultural preservation happens primarily through procreation," said Wartanian, who plays the role of the Der Hayr, who is also called upon to find Lara a "pesa." "The characters are true to the universal experience of Armenians in the Diaspora who consciously or unconsciously imbibe predetermined roles that reckon with timeless questions of identity, preservation, displacement, and choreg."
The 16 cast members, who represent various Diasporan communities, including Australia, United States, Turkey, Iraq and Lebanon, have forged new friendships during the year long rehearsals and performances.
"The opportunity to be involved in a comedy around every day Armenian cultural dynamics was something that really appealed to me at first,"
said Edwin Baghdasaryan, a native of Australia who is an international tax accountant with PricewaterhouseCoopers in New York. "But throughout this extraordinary journey, we have had a chance to develop deep friendships across the group."
The play, following three successful performances on the East Coast, from its debut at New York City's Players Theatre to stops in Oradell, New Jersey and Watertown, Massachusetts, was born out of conversations by the writer with friends about the responsibilities that come with being a Diasporan Armenian and reconciling the inherent desire to continue the Armenian lineage, while finding a suitable partner in the melting pot of many Diasporan communities.
"Since birth our parents have instilled in us to have pride in being Armenian and have passed on that distinct duty to us," said Babayan, a journalist. "This is our group's way of contributing to our cultural fabric and showcasing that while we are spread across the globe, within us lies an undeniable fiber of our heritage."
That pride translates to the stage, through the cast's portrayal of an important social issue in the Armenian Diaspora, delivered an in an entertaining and lively manner, appealing to all generations. The group has managed to maintain their independence through the support of ticket sales for their performances.
"It is no secret that Armenian arts have suffered in their support over the years," said Wartanian. "It's my hope that this play and the many projects promulgated by today's Armenian artists enjoy the financial and moral support of audiences near and far of our global village."
Aside from performing an entertaining and energetic show for audience members, the cast and crew of "Where Is Your Groom? (Pesad Oor Eh)" believes in social responsibility and have donated proceeds from each show to noteworthy organizations benefiting the Armenian people, including Friends of Warm Hearth, an Armenia-based organization that provides housing and care for orphans with disabilities, Sponsor a Teacher Program, which provides salaries for teachers in remote areas of Armenia, and to the Armenians suffering in Syria through the Armenian Relief Society.
"As Diasporan Armenians, we understand the importance of not only preserving our cultural heritage but aiding our homeland as well," said Babayan. "Through this play, we are able to do both."
"This play is raw, funny and truthful," said Aleen Vartkessian, who plays the role of Mayreni who attempts to set her son up with Lara. "I can see everyone from my young cousin laughing as hard as my grandmother."
"Where Is Your Groom? (Pesad Oor Eh)" will take place on Sunday, May 18 at 4 p.m. at the South Pasadena High School Performing Arts Auditorium, located at 1401 Fremont Avenue in South Pasadena.
Tickets can be purchased at http://www.itsmyseat.com/events/797306.html or by calling 2016933453. www.whereisyourgroom.com.