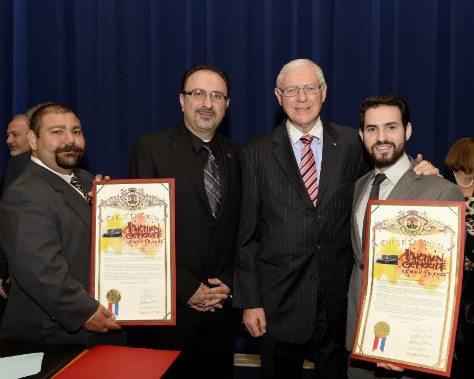 LOS ANGELES, CA – The Armenian Council of America and over 40 members of various Armenian organizations and institutions, including Abp. Vatche Hovsepian representing the Western Diocese, Sergey Sarkisov; Consul General of the Republic of Armenia in Los Angeles, the Armenian Chamber of Commerce and the Armenian Caucus for Local SEIU 721 participated in the annual Armenian Genocide recognition ceremony on April 15 at the Los Angeles County Board of Supervisors meeting where Supervisor Michael Antonovich presented a resolution in recognition of the passage of his motion proclaiming April 24, 2014 as "Day of Remembrance for the Armenian Genocide of 1915-1923″ throughout the County.
Supervisor Antonovich delivered an impassioned speech recounting the events of the Genocide and the positive impact of the Armenian-American community on the County of Los Angeles. His Holiness Archbishop Vatche Hovsepian conducted the opening prayer and the Honorable Consul General Sergey Sarkisov spoke of the importance of recognizing the Armenian Genocide.
ACA Board Member Krikor Moloyan thanked the Board of Supervisors for their continued efforts in recognizing the Armenian Genocide. He also shared his grandparent's eyewitness accounts of the Genocide and the gruesome atrocities committed by the Ottoman Turks. "As an Armenian-American I feel that it is my duty to educate and inform the world of the great tragedies from our past in order to prevent any from occurring in the future," said Moloyan.