YEREVAN — The monument to slain Armenian Officer Gurgen Margaryan was unveiled in Yerevan today. Gurgen's mother and member of the UK House of Lords, Baroness Caroline Cox opened the statue. The opening of the monument coincided with Margaryan's birthday who would have turned 35 on September 26.
The ceremony was attended by representatives of the Defense Ministry, government officials, students of school bearing Gurgen Margaryan's name, public figures and representatives of the diplomatic missions.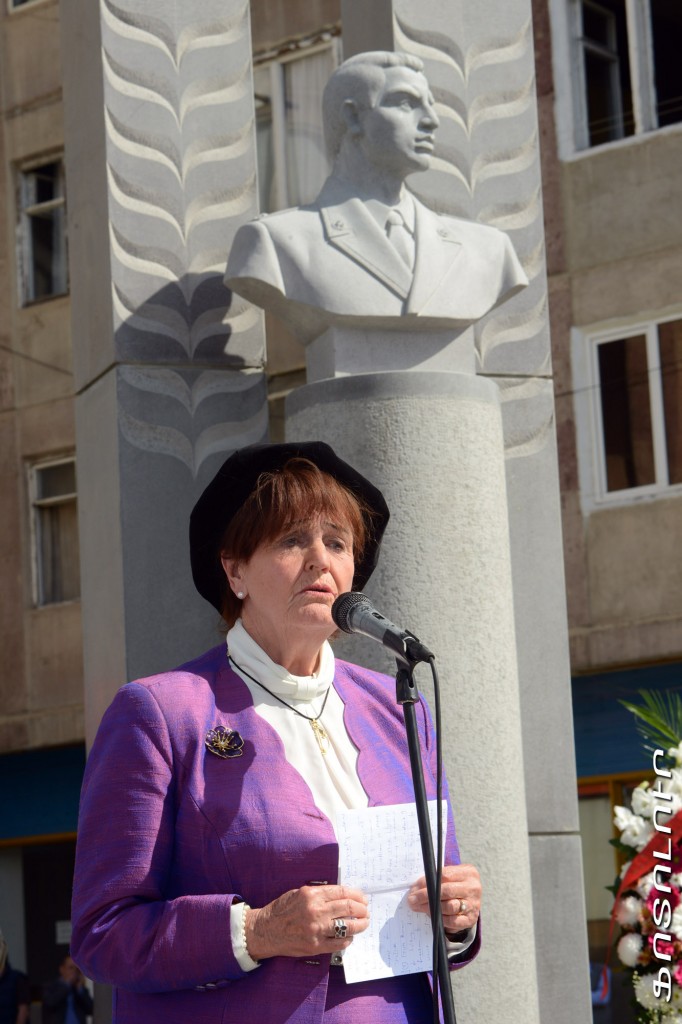 In her address, Baroness Cox said she, being a mother, shares the feelings of the Margaryan family.
"Your heroes are true heroes," Caroline Cox stated addressing the people of Armenia and Artsakh, "I am a mother myself and I could not help my tears when I learnt the way Your son was murdered. I was even more shocked to know that the assassin was proclaimed a hero in Azerbaijan. I am very worried about the future of Azerbaijan and the way they educate their children, when they consider a murderer to be a hero."
Armenian army Officer Margaryan was killed by Azerbaijani Officer Ramil Safarov on February 19, 2004 in Budapest as the two were attending three-month English language courses of NATO's "Partnership for Peace" program.
Ramil Safarov, who was sentenced to life imprisonment, was transferred back to his home country on August 31, 2012 under an extradition agreement.
Although Azerbaijan formally pledged that the life sentence handed down to him in Hungary would be directly continued when he was returned to his homeland, the Azerbaijani president granted him a pardon, he was declared a national hero, promoted to a higher military rank, and was allocated housing and pension..
Armenian President Serzh Sarkisian announced the same day that Armenia suspended diplomatic relations with Hungary.
Ramil Safarov's pardoning was condemned by virtually all international organizations.