LOS ANGELES – The City of Los Angeles' General Election resulted in all but one of Armenian Council of America Political Action Committee's endorsed candidates winning election to office.
In the Mayoral race, three-term City Councilman Eric Garcetti, whose Council District includes the Little Armenia District, an area heavily populated with Armenian-Americans, decisively won a hard-fought race to become Los Angeles' next Mayor, scoring well with voters across the sprawling city and even challenging rival Wendy Greuel on her home turf in the San Fernando Valley.
Garcetti took 54% of the vote compared with 46% for Greuel. Some mail-in ballots must still be counted, but they are not expected to significantly change the results.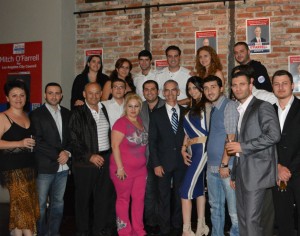 Mitch O'Farrell, a former Council District advisor to Garcetti, emerged victoriously over labor organizer and former Public Works Commissioner John Choi in Tuesday's election to replace termed-out Eric Garcetti as representative of Council District 13, according to unofficial results.
O'Farrell's deep roots in the district and extensive knowledge of neighborhood issues helped him overcome campaign spending in favor of Choi totaling nearly three times as much as the money backing O'Farrell. O'Farrell captured 53.05% of the vote compared to 46.94% for Choi, according the City Clerk's final tally of the votes. The results are still subject to review and confirmation by the City Council. "Thanks all! Final results in & we won by just over 6%," said O'Farrell in a Twitter post early this morning. "We made history!"
In the L.A. city controller's race, Ron Galperin, a little-known Century City lawyer, defeated three-term City Councilman and friend of the Armenian American community, Dennis Zine in unofficial election results. Galperin polled 56% of the vote compared with 44% for Zine.
The Armenian Council of America is dedicated to educating the Armenian-American community in local political affairs, as well as actively pursuing Armenian-American participation in their respective local governments, to support political candidates who share the values of the Armenian American community.