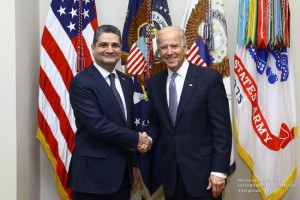 WASHINGTON, DC — Prime Minister Tigran Sarkisian discussed his reform agenda with Vice President Joe Biden and sought greater U.S. economic assistance to Armenia as he ended a working visit to the United States late on Thursday.
An Armenian government statement said Sarkisian and Biden met in the White House to discuss "prospects for the development of Armenian-American bilateral relations." It said they also spoke about "the course of the plan of reforms implemented by the Armenian government."
The statement gave no further details. The White House issued no statements on the meeting.
Sarkisian also met in Washington with Daniel Yohannes, the chief executive of a U.S. government corporation managing the Millennium Challenge Account (MCA) program. The MCA is designed to reward countries implementing political and economic reforms with targeted economic assistance.
"The two sides discussed possibilities of Armenia's participation in the program in the near future," the government statement said without elaborating.
Armenia already received in 2006 $177 million in MCA funding for the rehabilitation of its rural irrigation networks that was completed in September last year.
The U.S. Millennium Challenge Corporation (MCC) managed by Yohannes also planned to allocate another $60 million for the reconstruction of the country's battered rural roads. The MSS scrapped that allocation shortly after a disputed presidential election held in February 2008 and the ensuing government crackdown on the Armenian opposition.